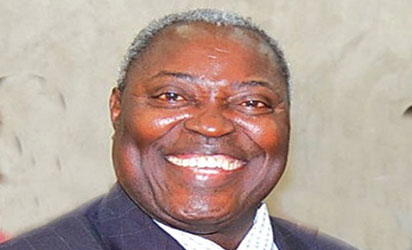 Kumuyi
Kumuyi
By Pastor William F. Kumuyi
Isaiah 5:13 "Therefore my people are gone into captivity, because they have no knowledge: and their ho-nourable men are famish-ed, and their multitude dried up with thirst."
The lifestyle of sin and disobedience to the co-mmand of God will plunge you into a life long in capti-vity masterminded by Satan, which can be mirrored through oppression, sickness, curses, etc cetera. This is because suffering does not manifest suddenly. It occurs as a result of the fact that you lack the ability and means required to follow God in truth and in spirit. When you lack the knowledge to do what pleases God, you will suffer for it.
But if you will humble yourself and seek the face of God for answers, He will prove Himself more than capable to give you real time solutions to those pro-blems bedevilling you. Your solution is not in the river; your solution is not in the hand of your fellow human being; neither is your solution in occultism nor in Satan; but it is from on high and in the hand of God Almighty. This is because there is no salvation in any other, but only in Christ Jesus. He is the perfect prescribed road map for all those who have been estranged from God and who need the help of the LORD.
The reason many people continue to suffer is be-cause they fail to understand their escape route to liberty; even though the solution has been provided, many will still prefer to remain ignorant of the truth.
Hosea 4:6 "My people are destroyed for lack of knowledge: because thou hast rejected knowledge, I will also reject thee…"
Many people seem to worship God on Sunday, but the rest of the other days of the week they are either in the shrine somewhere or serving their own selfish ulterior motives through sharp practices; yet they still want to be identified with God. That is sheer lack of knowledge in action. The scriptures makes it clean in Exodus 20:3 that "Thou shalt have no other gods before me." The reason is elaborated in Matthew 6:24, which says that "No man can serve two masters: for either he will hate the one, and love the other; or else he will hold to the one, and despise the other. Ye cannot serve God and mammon."
The God who created us deserves an exclusive right of worship from His creatures; and since He has no intention of sharing this right with any other, He has commanded us not to make idols of anything in the sky, sea and in the surface (earth). He has also forewarned us against using His name in vain.
There are people who refer to God as Almighty in the church, but behind the scene, when they meet a witch doctor during the week, they transfer the same accolade to a mere mortal. That is why the Bible says that my people are destroyed for lack of knowledge. Others do not show respect for parents; a few nurse and promote the habit of stealing; many more are into fornication, adultery, pornography, masturbation, false witness, and other evil acts including gaming, gambling, and night clubbing.
Hosea 4:6 "My people are destroyed for lack of knowledge: because thou hast rejected knowledge, I will also reject thee…seeing thou hast forgotten the law of thy God, I will also forget thy children."
Frankly speaking, a large number of people who go to church today do so not with genuine purpose of seeking to know God experientially, but with ulterior motive. They attend such religious meetings because of business and financial connections; others go to seek for women, fashion, entertainment and a life of luxury. God has never been their focal point of contact. In fact, when you look around you will see so many churches in our country, but the word of the LORD has lost its' pride of place in our lives; and we have turned it into an object of contempt and derision. The righteousness demanded by God is now playing second fiddle because we love religion; it is only in this religion that brazen churchgoers promote immorality, indecent dressing, comedy, materialism, etc in the house of God, without fear of divine punishment.
Steep consequences await all those who are in the habit of celebrating sin, because they remain bent in promoting sinful behavioural attitudes and conducts that is enmity with God. But if they display a change of heart, God has prescribed a road map at their disposal, which will bring all estranged sinners back to Him through Jesus Christ our sin bearer.
In other words, the beginning of the gate way into your turning around is humility: to put it simple and straight forward, you must possess a humble and submissive heart to God and His commandments. If you actually want to experience supernatural transformation, you must come to God with all humility.
II Chronicles 7:14 "If my people, which are called by my name, shall humble themselves, and pray, and seek my face, and turn from their wicked ways; then will I hear from heaven, and will forgive their sin, and will heal their land."