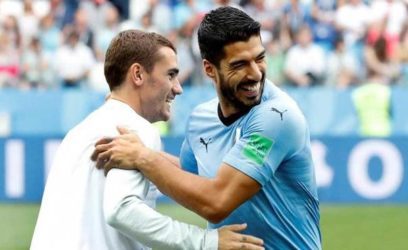 Luis Suarez has reject-ed Antoine Griezmann's supposed love for Uruguay after losing to France in the quarter-finals of the World Cup.
Griezmann scored France's second goal after Raphael Varane had given Didier Deschamps' side the lead on Friday in Nizhny Novgorod.
Griezmann spoke of his 'love' for Uruguay after the game, which has apparently grown because of his relationship with Atletico Madrid team-mate Diego Godin. Griezmann also didn't celebrate after scoring his goal against Uruguay. But Suarez has dismissed the France striker's gesture, particularly given how he helped to dump Uruguay out of the World Cup.
"He's not Uruguayan, he's French and he scored a goal", Suarez said.
"He doesn't know what we have to do to succeed in football. He will have his customs and his Uruguayan way of speaking, but we feel differently."
Uruguay coach Oscar Tabarez focused on the facts after the defeat.
Tabarez said: 'We don't play as well as our rivals, that's why we lost.
'The boys really gave everything, but France were able to control the match very well. After the second goal, there was a huge gap between the teams.'