…provides dialysis machines for General Hospital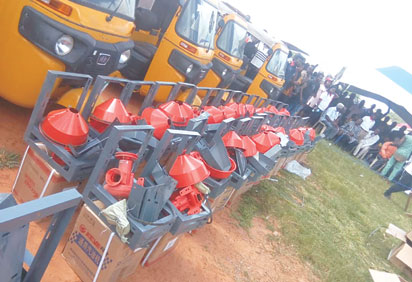 By Gabriel Ewepu
ABUJA-THE senator representing Cross River North senatorial district, Dr Rose Oko, recently empowered women in the area with agribusiness machines that would enhance their productivity and profitability. This was part of Oko's mega empowerment programme for her constituents at the weekend, which was held at Ogoja Stadium in Ogoja town, Cross River State.
According to her, the people have enormously supported her for the three years she has been elected as their senator, and that they deserve her commendation and appreciation, and also was her way to reciprocate their gesture by giving them her support in elevating them with the empowerment items.
The gathering was part of her meeting with the electorate to solicit their support and endorsement, where the chairman of the occasion, former Minister of Justice and Attorney General of the Federation, Chief Kanu Agabi (SAN), pledged his support for Oko, and urged the people to vote her in 2019. He added, that the  lawmaker has lived up to expectation and her responsibilities,and therefore deserves another term in the senate.
Others present  were the Governor of Cross River State, Prof Ben Ayade, Deputy Governor of the State, Prof Ivara Esu, Former Governor of the State, Sen Liyel Imoke, Chairman of Cross River State Chapter of the Peoples Democratic Party, PDP, Edim Inok among others.
She said: "We also have on ground three rice mill threshers. We have on ground a groundnut Sheller and I want to talk about the groundnut Sheller because I was touched when I saw  that Bekwara women were breaking groundnuts with their hands.
"So I decided  to empower women in the area. We also have on ground, groundnut oil mill. I believe Obudu women are engaged in groundnut oil so it is a good gesture to support them with groundnut oil mill. "We have on ground 47 grinding machines and we have eight hundred bags of fertilizers for our farmers.
"We also have made sure that we provide some grants for people that we are not able to reach, we cannot reach everybody but we made sure that we provided grants for about 122 young men and women across the board.
There are other projects in the pipeline including installation of dialysis machines and in due time, I will install them in the General Hospital, Ogoja.
"Dialysis machines are for people that have kidney problem and we used to think that people with kidney problems are bewitched but with the equipment on ground those people can live a better life", she said.
She however assured her constituents of her unflinching support through service to humanity.