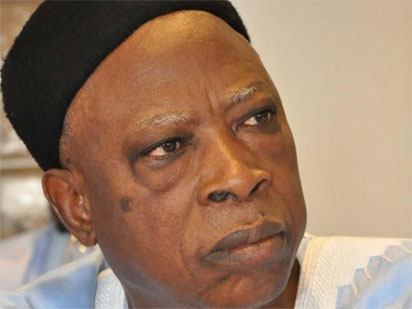 ABUJA—Senator Abdullahi Adamu, representing Nasarawa West senatorial district, has described Reformed All Progressives Congress, R-APC, as a fraudulent group, alleging that the Senate President, Dr Bukola Saraki, was behind the emergence of the group.
However, spokesman of the Senate President, Mr. Yusuph Olaniyonu, yesterday, refused to react to the allegation, saying he would not comment.
In an interview with reporters at the APC headquarters in Abuja, the lawmaker said Saraki seemed to be the brain behind the group.
He said no member of the new Peoples Democratic Party, nPDP, benefitted from the faction like Saraki but noted that the Senate president had allegedly been disloyal to the APC.
"He (Saraki) has benefited more than any single new PDP person and he seems to be the arrow head of this resistance of betrayal.
"I told you that the nPDP is fake. I told you these are the people who have got felony that they are hiding from and that they want to use their positions in the party and national assembly as a veil to hide from the felonies they have committed.
"The whole thing they are fighting for is not for service to Nigeria but service to their interests. I did tell you that they are staying in APC to cause more maximum possible damage. I made that clear here. I have been proven right."
Asked if the splinter group constituted any threat to the party in 2019, Senator Abdullahi said: "The issue of threat doesn't arise. I don't feel it in my body. I have been in politics, if I am modest, may be at least 40 years. I have contested elections and never lost.
'' The truth is that if Saraki and the rest of them genuinely feel aggrieved and want to go out, let them go out there. Three weeks after the convention, we are hearing that some riff-raff have formed something called R-APC."