Thousands of kilometres and a five-hour time difference with Moscow cannot dull World Cup fever in the Siberian town of Ulan-Ude, even if it means missing out on sleep.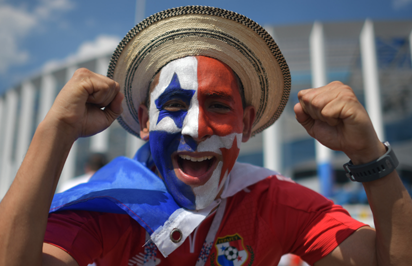 After Russia's stunning victory over Spain on Sunday, joyful celebrations broke out in this city of roughly 400,000 people to the east of Lake Baikal, mirroring those taking place in central Moscow.
"We still feel the party here, despite being 5,000 kilometres (3,100 miles) away. Everyone supports Russia, I think Russia will win this competition," said 40-year-old farmer Anton Darkhanov.
Russians typically prefer ice hockey and the enthusiasm for football across the country — as well as the team's staggering performance — has taken many by surprise.
In the world's biggest country, with 11 timezones, following a tournament taking place in the European part of Russia has meant missing out on sleep for those in the east.
The easternmost of the 11 host cities is Yekaterinburg, on the frontier between Europe and Asia.
When a match starts in Moscow at 9:00 pm, viewers in Ulan-Ude will be turning on their TVs at 2:00 am.
Local radio producer Aliona told AFP that people at the bar where she was watching the Russia-Spain game burst into tears and erupted in joy at the final whistle on Sunday.
In the city centre "there were so many people dancing, singing, some had the Russian flag", she said. "Everyone was happy. It was a big party for everyone."
Videos shared on social media show hundreds of locals shouting "Go, Russia!" in the city's central square, in front of a giant sculpted Lenin head.
– The Russian spirit –
The dramatic penalty shootout win against Spain takes Russia to the quarter-finals for the first time since 1970, when they played as the Soviet Union.
But in the village of Vahmistrovo to the south of Ulan-Ude, farmer Bayir Budayev is keeping his expectations in check.
"It's the Russian spirit — when you don't expect anything, you have more success," he said.
Budayev watches every Russia match dressed in the team's white shirt, adorned with the country's two-headed eagle symbol.
His four-year-old-son, wearing a team shirt with his name across the back, can barely contain his excitement when Russia play.
"The main subject (of conversation) now is football. It's the most important event, the World Cup. It unites us, it unites all of society," said Budayev's wife Ksenya.
The family live in a little wooden house with a large vegetable garden.
But even if their work is physical and demanding, "We always try to find some time in the evening to follow the football, whether it's to support our team or those of other countries," Ksenya added.
For her husband, the World Cup is about more than just sport.
The team's fighting spirit is like "the Russian national character," he said. "Maybe we're not the most outstanding but we'll fight until the end."