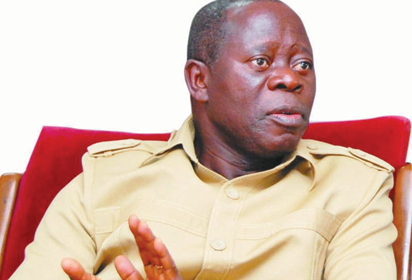 By Jimitota Onoyume
WARRI—National Chairman of All Progressives Congress, APC, Mr. Adams Oshiomhole, has been urged to intervene in the crisis rocking the party in Delta State or forget winning the state in 2019 polls.
Former Acting Managing Director, Niger Delta Development Commission, NDDC, and chieftain of the party in the state, Pastor Power Aginighan, made the appeal in Warri, Delta State, yesterday, enjoining Mr. Oshiomhole to urgently convene an all-inclusive truth and reconciliation meeting to address the challenge.
He said a timely step will properly position the party for victory in the 2019 polls.
According to Aginighan, "Please permit me to further draw your attention to the crisis that has been rocking the Delta State APC before, during and after the ward, local government, state congresses and the National Convention.
"I am not a stranger to the efforts you and Governor Godwin Obaseki of Edo State made to resolve the conflicts within APC in Delta State before you became National Chairman.
"If all the leaders in Delta APC had endorsed your prescription for peace and unity, we would not have been where we are today.
"I know that you will not turn your back on Delta State APC now that you have all that is required to restore peace and unity in our beleaguered APC family.
"I appeal to you to, very urgently, extend your peace and unity evangelism to Delta State by convening an inclusive truth, peace and reconciliation meeting. Without this, I beg to submit that your dream to rescue Delta State for APC in 2019 will remain a mirage.
"Many party faithful are encouraged by your resolve to listen to aggrieved members with a view of bringing all on board ahead of the 2019 general election."