Nigeria chose one of the world's top international airshows to unveil its plans for a new national flag carrier, Nigeria Air, with a glitzy launch aimed at attracting foreign investors.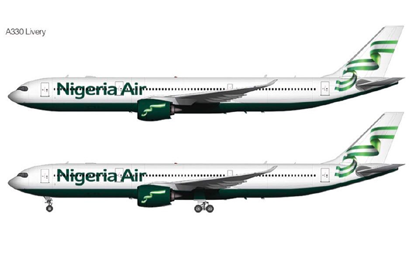 Aviation minister Hadi Sirika said Nigeria Air would take off in December with 15 leased aircraft and said talks have been held with manufacturers Airbus and Boeing to buy new aircraft.
Qatar Airways and Ethiopian have been mooted as possible investors.
"I am confident we will have a well-run national flag carrier, a global player, compliant to international safety standards… which has the customer at its heart," said Sirika.
The announcement at Britain's Farnborough Airshow sparked an outpouring of national pride in Nigeria, whose reputation abroad is often associated with corruption and poor governance.
Supo Atobatele, editor-in-chief of Air Transport Quarterly and a former spokesman of the Nigerian Airspace Management Agency, said the move was long overdue.
"An airline flying our flag across the globe will enhance the international image of our country," he told AFP.
The government said the new airline will not only cater for a growing demand for air travel but also create jobs and boost the economy, which is recovering from recession.
Its "private sector-driven" financial structure in which the government only holds only a five percent stake would also boost competition and drive up standards, it has argued.
– Mixed reception –
Reaction to the announcement has not all been overwhelmingly positive, however, and many sounded a note of caution given Nigeria's unenviable track record in aviation.
More than 40 airlines have gone under in Nigeria in the last 30 years, not least the former national airline, Nigeria Airways, which collapsed under a weight of debt in 2003.
Fifteen years later, many former employees are yet to be paid salary and pensions arrears, according to unions.
Virgin Nigeria was founded as a joint venture with Richard Branson's Virgin Group, folded in 2008. The British tycoon complained of political interference and vested interest.
He likened the behaviour of the authorities to the mafia in the United States of the 1930s and questioned why any international firm would consider investing in the country.
Rebrandings as Nigerian Eagle Airlines and Air Nigeria also failed to get off the ground, while in recent years the government has stepped in to stop private airlines going under.
Domestic aviation is dogged by delays and cancellations while foreign airlines dominate the most popular international routes to Europe, north America and the Gulf.
The government is covering the start-up costs of $300 million (256 million euros) for Nigeria Air.
But Atobatele said the new carrier needed to be devoid of political interference for it to survive.
"The major reason why Nigeria Airways failed was because it was run as a social service and not as a business. Nigeria Air should not be allowed to suffer the same fate," he added.
The general secretary of the National Union of Air Transport Employees, Olayinka, Abioye, said he was worried about use of state funds to finance the new airline.
"What will become of the fate of the domestic airlines that have been allocated the routes of the defunct Nigeria Airways?" he added.
"Are they going to be shut out of those routes when the new national carrier comes on stream?"
– 'Wrong priority' –
Abolaji Odumesi, a frequent air traveller from Lagos, said there was no need to launch a new airline in the first place.
"We should have resuscitated Arik Air and Aero Contractors to form the nucleus of Nigeria Air since they have been taken over by the government because of their huge debts," he added.
Beyond questions about the extent of government involvement, tight margins and huge costs involved, others said Nigeria had more pressing issues to address.
Former education minister Oby Ezekwesili said a national carrier was "clearly a wrong priority" and a "waste" of money that could be better spent elsewhere.
Some 86.9 million of Nigeria's more than 180 million people were now living in extreme poverty — the most in the world — with fears that could increase as the population increases.
Only a tiny minority had benefited from the billions of dollars made in oil production. Corruption and mismanagement has left public services in tatters and infrastructure inadequate.
Buhari, who is seeking re-election in February next year and made the relaunch of a national flag carrier a campaign pledge in 2015, has vowed to improve the situation.
But for most people, air travel remains a luxury.