..cause temporary commotion
By Levinus Nwabughiogu
ABUJA- Plenary in the House of Representatives, Wednesday, witnessed a shouting spree between members loyal to the Reformed All Progressives Congress, R-APC and the All Progressives Congress.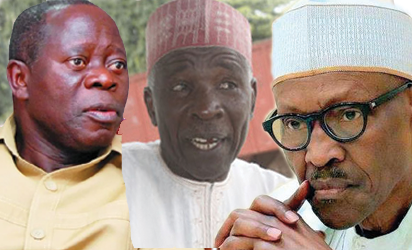 The altercation interfered with the proceedings of the House and caused a temporary commotion.
Trouble started when the Speaker of the House, Yakubu Dogara yielded the floor to Hon. Bode Ayorinde (Ondo State) to make his contribution to an ongoing debate on a motion by Hon. Ossy Prestige from Abia State to prevail on the federal government to conduct census by next year.
Introducing himself, Ayorinde stressed that he was a member of R-APC.
Swiftly, the introduction ignited a response from members of the APC, particularly Hon. EJ Agbonaima from Edo State who retorted that "there is no faction in APC".
The issue prompted spontaneous reactions from both the members of the Peoples Democratic Party, PDP who clapped in admiration to the development.
But in a bid to save the situation, Speaker Dogara told Hon. Ayorinde that "We are called Honourable members here".
With that, Hon. Ayorinde was allowed to make his contribution.
Yet the matter was to resurrect almost immediately when the Speaker, again, called Hon. Tope Olayanu from Kwara State to second a motion.
Standing up, Olayanu cleared his throat and in a loud voice said, "Mr. Speaker, I am a bonafide member of R-APC".
This, again, vexed the APC members who showed resentment to that.
Quickly, the Speaker intervened, saying "Hon. Olayanu, I called you to second the motion, not to announce the party you are in".
For about 60 seconds, the House became noisy with the shouts of "sit down".
When sanity eventually returned, Hon. Olayanu seconded the motion but not without rattling the APC members again.