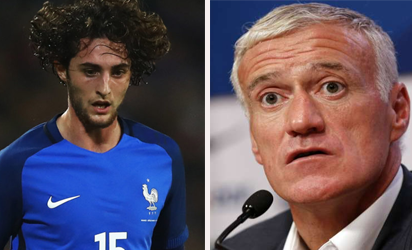 Paris Saint-Germain coach Thomas Tuchel urged highly rated midfielder Adrien Rabiot to stay with the club on Sunday following reported interest from Barcelona.

Tuchel said Rabiot, who made headlines when he rejected a standby slot for France's World Cup squad, still had room to develop at his home town club.
"His talent is obvious, his potential is obvious," Tuchel said in Singapore, ahead of Monday's friendly with Atletico Madrid.
"I think there are still more levels to reach and I'm convinced there are still next levels to reach in this club, in his club where he comes from from the youth academy.
"But we know about his contract situation and in this kind of situation it's on the players to make a commitment."
Tuchel, preparing for his first season with the French champions, added that he hoped to sign more players in the current transfer window, particularly in defence with Dani Alves recovering from knee surgery.
"We have to get guys to fulfil our squad and at the same time lift our level up… we're working on that, of course," he said.