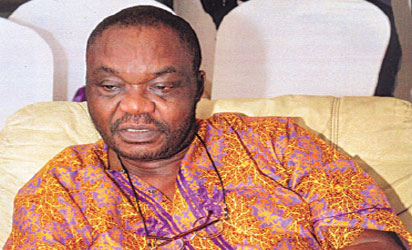 By Alemma-Ozioruva Aliu
Honourable Charles Idahosa, one of the prominent leaders of the All Progressives Congress, APC, in Edo State recently resumed his political activities after taking a break to review the happenings in the party. He spoke on the 2019 elections and other issues.
The Ekiti governorship election has come and gone. How do you assess the election?
I am very happy and I want to say congratulations to the new National Chairman of the APC, Comrade Adams Oshiomhole, President Muhammadu Buhari and the all party members. This is the first real test for the new Chairman and, being a former governor of Edo whom I worked with as his political adviser for eight years, I knew he would not disappoint. It shows that there are great things to come for the APC. APC was on the brink and the greatest thing that happened was the wisdom of the party in bringing him and we are going to liberate other states still outside of the APC because I know how strong Oshiomhole is having fought many battles.
But your party was accused by the opposition PDP of deploying federal might to win the Ekiti election?
What do you mean by deploying federal might?   Will you do an election without the police and other security agencies going there to maintain peace? As you might be aware, the international observers said the election was fair, so what has federal might got to do with that? People voted but you must understand that in this country; if you lose an election, you must look for stories. This guy called Ayo Fayose ran out of tricks. We all know what happened in 2014 when I and Oshiomhole and other people were supposed to go to Ekiti for a rally to help Fayemi campaign. We were to take off from Benin-City for Ado Ekiti; what you now called federal might is what they used to detain our plane at the Benin airport for hours. This was organised by Fayose, so I don't know if that was federal might. Fayose said he won 16 over 16. Fayemi picked up his telephone and congratulated him; we didn't go to court or say it was rigged. A young army officer who ran into exile narrated what happened, how he and his colleagues were used to manipulate the result of the election four years ago.   So what they are calling federal might now, maybe is what they did that is haunting them because I didn't see any federal might in the Ekiti election this time. A governor who abused his superiors and talked anyhow, owing workers up to seven months salaries and he now gave them bribe of N3, 000 and you expect them to vote for you? I am happy he is going to the tribunal.
With 2019 getting nearer, your party is enmeshed in crisis as the Reformed APC recently emerged. Are you not disturbed?
There is nothing like Reformed APC. Those are junk politicians. If you read a newspaper interview I gave some time ago, I said Muhammadu Buhari was doing very well but that, very soon, corruption will fight back. What you are seeing now is corruption fighting back. The money in the hands of these people is so much that they are ready to muscle every opposition. What is R-APC? In 2014, 2015, a group of PDP members who felt aggrieved and led by Bukola Saraki, left the party. Saraki is a creation of his father. Without Dr Olusola Saraki, I don't think we would be seeing Bukola Saraki. But we all saw what he did to his father in Kwara because of personal ambition. So, Saraki, as far as I am concerned, has no respect for any constitutional arrangement. He decamped into a party and became the Senate President and he is complaining that he didn't gain. Dogara became the Speaker of the House Representatives. Must you jump from one party to the other all in the name of getting positions? Nigerians must learn to look at these people and see them for who they are. So, if they like, let them stay or go. APC under Buhari will win the presidency come 2019 because Nigerians are wiser. Buhari was a former military governor of the North Eastern State and later Minister of Petroleum and Head of State yet he has no house in Lagos, Abuja, no private jet or oil bloc. There are some inconsequential generals, if they were in a proper army, they will not grow to become captain. One of them told the whole world that he didn't know what to do with the millions he owns, yet in this country we still accept them. Generals who retired at the age 34 or 35 and the only war they fought was some village skirmish!
 With the killings going on in the country, especially in the north central, why do you still have the optimism that your party will win the 2019 presidential election?
There were killings in the Niger Delta during the administration of the PDP government of Jonathan Goodluck, we witnessed even more killings during Obasanjo's era. I am not justifying killing of any form. But I want you to remind me if it was ever said that it was Jonathan that was ordering the killings. Look at the problems in Zaki-Biam and Odi, and how whole villages were levelled. Why will any sane man order the killings of his own people? The first thing a policeman will find out at a crime is the motive. Everything being done by politicians in the opposition party is to give the outside world the impression that there is anarchy, that the APC led federal government has lost control. They are doing this to create the impression that Buhari is responsible. There have always been killings in Nigeria but the intensity of the killings today is what really bothers me. Those behind it want to cause a religious war. Look at what happened in Sokoto where gunmen invade a community killing women and children, were herdsmen or cows involved? The media should help us by calling them foreign terrorists. The opposition doesn't want to fold their hands and see Buhari succeed. For my President in my life time to address the International Criminal Court at the Hague, the only Head of State in whole world ever to do so, because he is fighting corruption and surviving it in Nigeria, yet you shout everywhere that he is not performing?
How do you see the emergence of the new coalition, CUPP, led by former President Obasanjo and the PDP to dislodge the APC in 2019?
When we were forming the coalition that became the APC and we threw out the PDP, the parties that came together included ACN which came with eight governors, APGA came with two governors , Saraki came with three governors , national   and state assembly members , people that had hold in areas, not this coalition of Volkswagen and 404. What you are seeing is what I called brief case political parties. Outside the PDP, how many of them came with a governor, how many had a councillor out of the 40 parties or have offices in any state capital? It was when parties were registered with the promise to give them money that they all came to be registered. It was a circus watching them on television; it was just a mockery as far as I am concerned, it was just like the 35 people decamping to join the PDP. In any case, how many of the governors in PDP can control their states today? When hurricane Oshiomhole comes in 2019, they will all hide.