…brother of bus driver killed by fallen container truck from Ojuelegba Bridge laments
•Says nobody to take care of the child of the deceased, wife, aged father
•Lagos govt. moves to stop deaths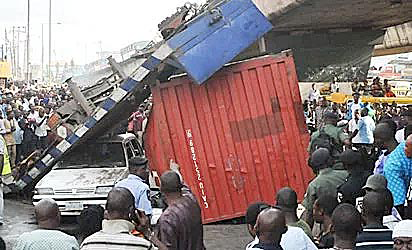 By Yinka Ajayi
Residents of Ojuelegba, Lagos have been lamenting the loss of lives and property caused by container-laden trucks falling from the bridge next to the one in front of the National Stadium, Surulere.
The latest incident killed a commercial bus driver and member of the Nigerian Union of Road Transport Workers, NURTW, operating in the area, Razak Fatai (aka Aro), and two commuters while several others were injured.
"It unfortunate that one of our members was a victim of the unfortunate incident that claimed three lives", the Chairman of the NURTW, Ojuelegba chapter, Comrade Aronsi Ola, told Sunday Vanguard.
Meanwhile, Hameed Fatai, younger brother of the deceased bus commercial driver, Rasak, narrated how the news of the death of Razak was broken to him.
"I was at Mile-2 when a call came on my phone that I should come to Ojuelegba under bridge as my elder brother was involved in a fatal accident. On getting there, I saw an ambulance and a crowd surrounding the vehicle. I was informed that my eldest brother corpse was inside the ambulance. I could not hold back tears as I cried profusely. My brother was the breadwinner of our family and left behind a small child and a wife. Our father is also still alive and depended wholly on him".
In a related development, John Orume, a commercial bus driver and the Organising Secretary of the Road Transport Association of Nigeria, Ojuelegba axis, said trucks had fallen from the Ojuelegba Bridge about five times in the last few years.
"Only government can stop trucks from falling from the bridge and causing deaths by fixing it and putting strong side barriers such that even if any truck loses control while climbing, it will not fall and land on unsuspecting motorists and pedestrians passing under the bridge and killing them," Orume stated.
Also speaking on the Ojuelegba Bridge, Lagos State Commissioner for Transport, Mr. Oladipupo Lawanson, said Governor Akinwunmi Ambode had ordered that measures be taken to prevent trucks from falling from the bridge.
Lawanson added: "We have spoken to members of the community and we agreed that the way-forward is to prevent the incident from happening in the future because these are three lives too many taken in an incident that is clearly avoidable. Lagos State government expresses deep sadness on the unfortunate accident and it is regrettable. With the support of the Permanent Secretary in the Ministry of Transport and also the chief executive officer of LASTMA, we came up with a solution that containers be properly latched on trucks plying our roads. But we cannot do this alone as a state. There is need for the Federal Government collaboration because the Nigerian Ports Authority is involved. The ports are where the container-laden trucks take off.
"So the need for compliance on our roads is inevitable. In the immediate term, we are working together with the police, LASTMA, and NPA to ensure compliance of the latching of containers on trucks and arresting trucks carrying unlatched containers. LASTMA has been directed by the state government to monitor the compliance order at both ends of the Ojuelegba Bridge. We are also putting barriers at both ends of the bridge to prevent heavy duty trucks from climbing to ensure that they don't fall and kill people."