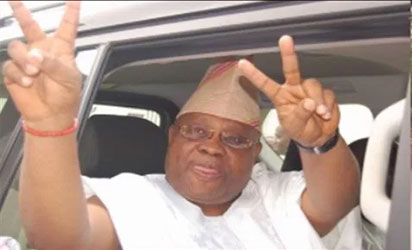 By Gbenga Olarinoye, Osogbo
Seven aspirants of the Peoples Democratic Party, PDP, in Osun state in Saturday's governorship primary of the party have faulted the processes that led to the emergence of Senator Ademola Adeleke.
The aspirants, including the second runner off, Dr Akin Ogunbiyi, Professor Adeolu Durotoye, among others in a press conference in Osogbo, unanimously demanded that the National Leadership of the party should rescind it's decision on the nomination of Senator Ademola Adeleke as flag bearer of the party.
They accused the leadership of the party of carrying on with outright impunity unabatedly, contrary to the earlier promise to change the old pattern of operation the party is known for.
The group whose press statement was read by Senator Akinlabi argued that the figure of 1562 votes allotted by the 5-man electoral panel to Dr Akin Ogunbiyi, was wrong, saying the actual figure was 1690.
"Contrary to the promise made by the new leadership of our party, the reign of impunity appears to have continued unabated with the way and manner the primary election in Osun State was conducted.
"The exercise was regrettably marred by gross violations of that Electoral Guidelines issued by the National Working Committee as well as outright manipulation of the results of the election in favour of Senator Nurudeen Ademola Adeleke in a manner suggesting that he was the favoured candidate of some powerful individuals in the top echelon of the PDP.
"We make bold to say that Senator Adeleke did not in fact score the highest number of votes in that primary election, having polled a total number of 1569 as against his major opponent, Dr Akin Ogunbiyi, whose actual votes at the point of sorting was 1690", they resorted.
In his remarks, Dr Akin Ogunbiyi expressed hope that his mandate would surely be reclaimed.
Ogunbiyi who said that only party that can restore the hope of the people of Osun is PDP, said he would not leave the party.
He said: "We are not leaving the party under any guise, we believe in the leadership of the party, we will together fight this cause to uproot the bad government of APC in the state.
"Let me say emphatically that the only party that can restore the hope of the people of Osun is PDP".