By Emmanuel Aziken, Political Editor & Ben Agande
Vows not to lose any member
Holds first NWC meeting tomorrow
Ex-Delta gov set to join APC
As Saraki's chief of staff dumps party
New National Chairman of All Progressives Congress, APC, has initiated talks with all aggrieved elements in the party towards aborting plans by the dissenting tendencies to leave the party, sources close to the leadership have affirmed.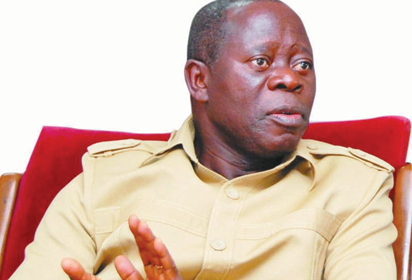 The sources said tomorrow's inaugural meeting of the new National Working Committee, NWC, would be devoted towards fashioning a peace template to resolve the crisis in the party.
Even more, towards actualising his plans to consolidate the party in his South-South base, it was learnt that Oshiomhole may have perfected a deal to bring in a former governor of Delta State into the party.
However, before he could even present his peace plans, one of the founding fathers of the party and pioneer chairman of the party in Kaduna State, Dr. Hakeem Baba-Ahmed, yesterday, defected from the party.
Dr. Baba-Ahmed, a former secretary of Independent National Electoral Commission, INEC, and chief of staff to the Senate President, Dr Bukola Saraki, was, however, quick to dissociate his defection from the political plans of Dr Saraki.
Sources close to the new leadership told Vanguard, yesterday, that Oshiomhole had already initiated peace talks with many of the aggrieved tendencies in the party towards ensuring that none of them leave the party.
A source said: "NWC is meeting on Wednesday and the focus is how to reconcile aggrieved members across the states.
"The chairman is making that a priority and has plans to set up committees comprising eminent and experienced politicians to bring about peace, even with members of nPDP.
"I can confidently tell you that the chairman has no plan of losing any member. Chairman has met quietly with most of the aggrieved leaders."
Even more, the source added that the new chairman is also determined to bring Delta State within the fold of the party.
Ex-Delta gov set to defect
"Oshiomhole's plot to pick Delta State is not a joke," the source said as he noted that a flurry of defections would soon be triggered in Delta State, which shares boundary with the chairman's political base in Edo State.
It was revealed that a former governor of Delta State who recently met with Oshiomhole in Abuja is expected to facilitate what the source said would be a political meltdown in Delta.
Saraki's chief of staff dumps party
Meanwhile, Oshiomhole's determination not to lose any leader nonetheless, the pioneer chairman of the party in Kaduna State, Dr. Baba-Ahmed, yesterday formally left the party.
He said his decision to quit the ruling party had nothing to do with his principal, Saraki, but mainly on the poor performance of the party.
Baba-Ahmed, who was also chairman of the defunct Congress for Progressive Change, CPC, in the state in a statement said: "This statement is to inform the public of my resignation from All Progressives Congress, APC. I have sent a formal letter to this effect to chairman of my ward.
"This has been a very difficult decision to leave a party  I helped form and made my humble contributions to put to power. After three years, however, I need to say that APC has grossly under-performed, and has forfeited any claim to my loyalty and continued membership.
"I do not believe, in all conscience, that it should be trusted and encouraged to continue to govern our great country beyond 2019.
"I am not leaving to join another party. This is my decision and mine alone. It has nothing to do with the President of the Senate, Dr. Abubakar Bukola Saraki. It is a decision taken with due consultation with the Akida Group (APC), a group that has predated my appointment as Chief of Staff to the President of the Senate."
"I will remain active in politics  as this is the main avenue for salvaging our nation from rising insecurity, poverty and bitter divisions."