Awka – Geen Eagles' veteran goalkeeper Emmanuel Okala has lauded the plans of the Nigeria Football Federation (NFF) to train and employ Karl Ikeme as part of the coaching crew.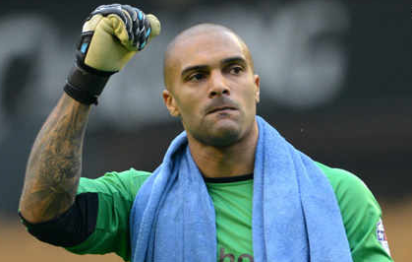 Ikeme, who was in goal for Nigeria in most of the World Cup qualifiers recently announced his retirement from both national and club football due to his battle with Leukemia.
Okala said in Awka on Tuesday that Ikeme's exit from international football was a painful reality.
The ace goalie said the plans of NFF to cushion Ikeme's pain through employing him was a welcome development.
He said Ikeme, 32, still had a lot to offer the football world, especially the development of the game in the country.
He said administrators of football should pursue the idea with sincerity and genuine intention to assist the retired goalie and tap the best resource in him.
"I want to pray for his full recovery so that he can come back to normal.
"I appreciate the NFF for their wise decision to help Ikeme, it will make him to be forever happy and have nothing to regret about for serving Nigeria through football.
"I thank them and encourage them to be sincere in everything.
"As for Ikeme's retirement it is a minus for Nigerian football because that is a young man with o much potential," he said. (NAN)