As SSS chase Giwa out of NFF
State Security Service agents Monday ejected the Nigeria Football Federation Chris Giwa faction from the Glasshouse headquarters of the NFF, following directives from President Muhamadu Buhari.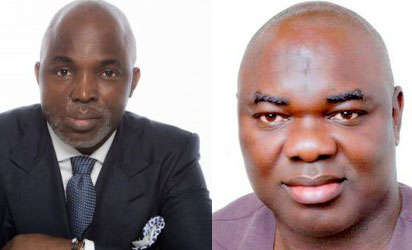 And an embattled Amaju Pinnick who was briefly banished by a Supreme court order enforced by Sports Minister Solomon Dalung was full of praise for the President for his good judgment and foresight, which prevented the country from being sanctioned by the world soccer governing body FIFA.
"We must give all the credit to our President, Muhammadu Buhari, for acting to restore the leadership of the federation and saving the nation the embarrassment," Pinnick said.
"Even as the situation persisted, I was very positive about his patriotic commitment to the best interest of the nation and his clarity of judgment to bring order to bear.
"It is said that the sheep cannot be suffering the pangs of birth tied to the stake while elders are around. He has demonstrated this fatherliness in so many ways across various sectors and now football is the latest beneficiary. We thank God for his life and for giving him to us.
"By his intervention, the nation has been saved the embarrassment, the world football community has been reassured of the high sense of responsibility of the government of Nigeria as a member of the international community and hope is brought back to thousands of Nigeria youths engaged in football as the various national teams can proceed on their various programmes without apprehension, the various leagues which were stopped under the circumstance can now get back to action while the confidence of the various sponsors, partners and investors in Nigeria football has been restored."
He urged Nigerian football stakeholders to embrace peace and work for the overall progress of the country's football and youths.
"Football is about people, about unity. The game belongs to the fans and the pride belongs to the nation. The people are deprived when football is inhibited but with the action of the President, Nigerians can now enjoy what they love most."
Subscribe for latest Videos