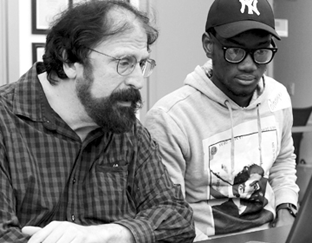 •James Estrin, staff photographer, New York Times and Dapo Ogunjobi at the review
By Chris Onuoha
Oladapo Ogunjobi is a young Nigerian creative photographer. He was invited by the New York Times in the United States this April for a photo review of his work titled "Nature of being".  To him, that's one singular feat that has changed his creative narrative. Having graduated from University of Lagos where he studied Creative Art, 2017 session, he opted for conceptual photography as a way of expressing his creativity in a different dimension. Oladapo, who just came back from New York Times Photo Review where his work was selected as the best, spoke to Vanguard about his experience so far.
Let's get to know you proper
My name is Oladapo Ogunjobi. I am a last born of three children in the family of Justice Ogunjobi, a judge with the High Court of Lagos State and my mum is an educationist, runs a school in Lagos State. My brother is a computer engineer and my sister is an entrepreneur while I am an artist. It's a unique family with everybody in their own light and professional. I studied Creative Art at University of Lagos and just graduated last year, 2017. Although before my graduation from school, I run a creative photography studio in Yaba area in Lagos. Immediately after my graduation, I was invited by the New York Times for a Photography Review of my submitted work.
What inspired you into photography?
First of all, it is passion for the art and also for the photography. I started photography practice while I was in school and has been doing it full time now as a career. As a creative artist who paints, draw and designs, I found it really comfortable to work with photography because it is easier for me to record scenes and characters and later create master piece with it.
Besides, it is people and environment around me – my mum, my dad, sibling and friends as well, that inspired me into the art of photo shooting. But it was my mum that first spotted my special skill in photography. She first saw my photo shots and encouraged me to develop and enhance the career. My dad has been supportive as well.
Aside the supports, inspiration comes from random things I see around me that I pay attention to. As an artist, I use art to bring people back to reality and photography to me is something related to it. It's just something you see that needs no explanation.
Your work was selected by New York Times for review. How did it all happen?
I wasn't connected or picked by anyone. After creating some jobs, I started to search online for ways to push myself further, not just sitting down and doing exhibitions alone. I surfed online and bumped into the site of the New York Times Photo exhibition and Reviews. I discovered that I can submit work for free. I submitted just one work through online for a trial and waited for acceptance. Other people to my knowledge submitted many works, while mine was just one piece. Unfortunately, I submitted my work with a wrong email address unknowingly. I was not contacted and did not know that my work has long been accepted. It happened that one of the photographers who picked interest in my work searched my name and got my Instagram account and informed me that my work has been accepted, that I should forward a right email address for further contact. This just happened April this year and I was contacted and invited to New York Times office in the United States for the review.
The concept I sent was titled the 'Nature of being'. This is a work that really made understand what life is all about. I created this image by myself. It's an image that gave me a different view about lie. An image created from nothing. I was like telling everybody story about meaning of life, speaking to people who perhaps got lost with issues of life and wants to get out of it. It is a work that when you look at it you can't help but think of how to manage issues of life. The image is about figures aiming for perfection which ordinarily is never possible in life.  This particular work is talking about what you do while you are alive and how what you are doing affects other people and you as well. It's a work that has a global phenomenon. This is one work that passes my father's eye ever since I started the photography. On this review, we were about 3000 applicants shortlisted and about 300 were selected and mine made it.
Going into photography, is it an easier way of running away from the complexities of visual painting and drawing as an artist?
I wouldn't call it easier way because it's not so easy anyway. Taking pictures is not as easy as what you see. A lot of thoughts, concepts and research go into it. It usually takes up to 2 months of research before I can come up with the kind of concept I create. My idea is not still-life, landscape or portraiture. It's deeper than that. It's a creation like a normal art work that you conceptualize and create from scratch. I use more of my head than my hands, thinking 24 hours to compose what I want to achieve as a perfect art work in photographic genre.
Is your photography branded?
Yes. It's called conceptual artwork. I was recognised by New York Times by the conceptual work rating in a photography exhibition by African artists. I work on conceptual matters like money, life and death, child birth among others. I create works to spark conversations. I am not limited to my environment alone. My works speaks to people in the global scene. Anybody anywhere can connect to my work. I pick my subject matter, research and study it before creating an artwork out of it. I also consider people's reaction to the subject matter which I tried to relate to the work.
From the creative point of view, who shall you say inspire you into that distinct content creation?
For works, I don't have anybody. I rely upon my instinct, but for character and ideas, one man that comes to mind is Anthony Septa, a Nigerian creative photographer with bundle of ideas. He does a lot of creative things like multimedia jobs, graphics including photography. I had a stint with him in the course of my development.
How can we describe your kind of person?
I am a conceptual artist. I define life with my works. I want to be seen as someone who can actually make meaning out life, creating something unique that everybody can see and say you have really made a difference for yourself. You know we have a lot of creative people of my generation who are doing similar thing, but there's need for one to do something extraordinarily difference.
Your ideas and thoughts sound very wild beyond your age. Have you in any way been challenged in life or what can we attribute these wild ideas and imagination to?
There's this saying that goes thus: "To whom much is given, much is expected". That's the kind of words my dad has always been ringing in my head when I was young. I am the last born of the family. It may be just normal for me to sit comfortably at home and do nothing. Having realised how much time and concern my parents have invested in me, I wouldn't want to disappoint them including friends who trusted in my creative capability. I just have to keep doing what I have passion for. There are a lot of people doing what I am doing. So why should I see myself left behind. The inspiration is heavily spurred from my family. When I see my brother doing great in his career as a computer engineer, and my sister credibly excelling in her entrepreneurial business, I just have to get up and do something great as well. It is not compulsory but it is necessary.
Is this a foundation trend imbued in the family or is it something that exists from everyone's imagination?
I don't think so. I just have to be different. I don't have to rely on my father's influence or wait to be pushed. I just have to create what the world would see and see and believe in me. There's this connection to market yourself, going by the family influence but before the marketing, I needed to create the impression and work hard to merit it. In the family, we don't have limitations. Although, there are rules in the house but we are not subjected to parental obligations. We are free to choose what we want in life as long as it is in tandem with family tradition. My parents are elites and they gave us this opportunity to discover ourselves very young. We are not forced to do anything. I started handling pencil and drawing at age 4. Before my dad will come back from work, I will make a drawing and put it on his table. He saw from me at very tender age that art is what I am good in, not like deceiving myself studying mathematics or physics to be a scientist when I am good in another thing. This is same with my siblings. They all discovered themselves at early age and pursued it without restriction from my parents. So, my upbringing was very discovery
How do you see photography practice in Nigeria today?
It's a huge business and broad.   It is in various forms – event coverage and conceptual works as an art piece. When you are talking about creating stories that is of human interest, or documenting important programme, it is a different thing entirely. There is energy from every angle of photography.
I own a photography studio even before I finished my studies in Unilag and it is exclusively for creating artworks and not for event coverage. In my studio, I do a lot of things like digital photography, animation, creating stories out of photo shoots, producing and selling them.  One of my major works of interest is called 'Mammon'. The work is talking about money. Money is something that affects our existence in life. I have done a body of work on that subject which I presented in an exhibition. It sold well. Because of the kind of conceptual works I do with camera, I mass produce for sales. I don't do event coverage because as an artist, I am more interested in creating master pieces for relics than shooting for people's order and specification. With event assignments, I don't have freedom.
My photographic works are used for advertisement, pleasure, and aesthetics. It can be used as a private collection, for book and music album covers. Most of my works for such purposes are basically abstract. There's one of my collection I called 'Garri and the milky way'. This collection creates an illusion of Garri as a food eaten by the rich and the poor. Everybody drinks garri because of its accessibility. The concept is so deep in the sense that an artist using such impression for album cover is telling a story. The image alone will sell the album.