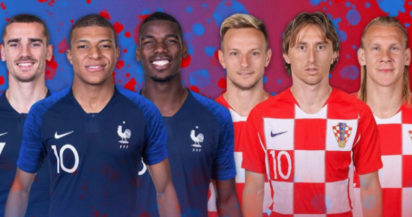 France vs Croatia
France vs Croatia
Four weeks of exciting football drama comes to an end today in Moscow as France and Croatia do battle for who takes the tittle in the final of the 2018 FIFA World Cup tournament here in Moscow, Russia.
For a tournament that produced several upsets and early exits for top teams and top players, France and Croatia are unexpected finalists, but both teams have all it takes to produce a classic world cup final that will live up expectations of football fans.
No doubt France are favorites, but Croatia looks good to cause an upset. They have had a long hard road to the final and the French think that the pressure will be on the Luka Modric inspired team.
Antoine Griezmann believes France is far from overawed by the prospect of playing in the World Cup final and in buoyant spirits.
"We lost when I was top goal scorer at Euro 2016," he joked, "so this time I've tried to score fewer goals to see if it helped us to win.
"I have tried to manage my play, when to keep the ball, when to accelerate. If I score, so much the better, but I am a player who thinks first of all about the team."
He cut short a questioner who wanted a response to criticism from Belgium goalkeeper Thibaut Courtois, who accused the French of playing negative soccer in their semifinal on Tuesday.
"No, no, no . . . Let's not go there. I don't care about that. I want the star (on the jersey). How we play to win the game I do not care! Thibaut Courtois must stop (his criticism). Does his team Chelsea play like Barcelona?"
On the tactics for Sunday's final at the Luzhniki Stadium, Griezmann hinted that coach Didier Deschamps was hatching particular plans.
"It's up to the coach to choose the tactics, but there is (Luka) Modric and also (Ivan) Rakitic to consider. These are two very technically strong players who are essential for Croatia."