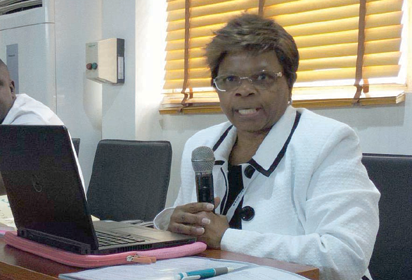 By Osa Amadi,Arts Editor
Professor Thabisile Buthelezi of the University of Kwazulu, Natal, South Africa said Thursday that  foreign is foreign only when you are black, in reference to xenophobic attacks in South Africa. She made this disclosure  at the conference tagged "J.P. Clark International Conference (JPCIC-2018)", the first in an envisaged series of annual conferences in which the works of celebrated Nigerian writer and scholar, Professor J.P. Clark-Bekederemo is brought into focus to test their appeal and perennial relevance in a changing world.
Delivering a paper titled 'Codeswitching JP Clark's and other  African Literary Voices to African Language for Social Integration in Africa', Buthelezi said the Chinese, the English , and other white races are not affected in xenophobic attacks in South Africa but blacks from other African countries are targets. She explained codeswitching as interlacing African languages with English words. When we do this, she said, we are drawing from our linguistics resources which are non-hierarchical. Language is linked to the world view of the speaker, she said,  so Africans oscillate between two world views. She said codeswitching perpetuates English as a European language. 'How do we develop English as an African language? When will we develop African English? Let us have critical researches of JP Clark's, Soyinka, etc., in connection with codeswitching. Diversity should be seen as solution, not a problem, she said.
The conference was held at the University of Lagos from Wednesday July 11 to Saturday July 14, 2018. It was a collaboration between the Department of English of the University of Lagos and the Department of World Languages of Monmouth University, USA.  Its conveners were Prof. Hope Eghagha of the University of Lagos and Dr. G. Oty Agbajoh-Laoye of Monmouth University, USA. In a statement issued by the organisers, the conference is expected to be an agenda-setting event in which participants, drawn from the literati, local and foreign academic institutions as well as other institutions involved in knowledge production across the globe, would map a field for J.P Clark Studies and locate the place of the poet, playwright and elder statesman in historical contemporary developments in African and Nigerian writing.
This maiden edition of the conference is themed "Connecting the Local and Global Across Literary Genres". Nobel  Laureate,Professor Wole Soyinka delivered the keynote address entitled "Othello's Lament: the Migrant Rues the Waves".  The host of the event was Prof. Muyiwa Falaiye, Dean of the Faculty of Arts.  The Chairman and Chief-host was the Vice-Chancellor of the university, Prof Toyin Ogundipe (FAS), while the special guest of honour was Mr. Sam Amuka-Pemu, Chairman and publisher of Vanguard Newspapers.