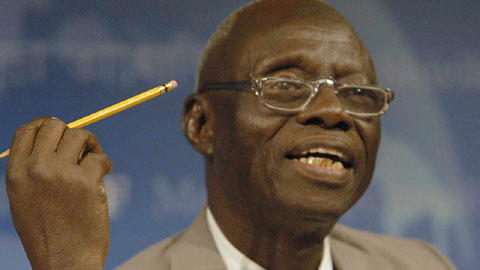 Malam Adamu Ciroma
Some financial experts on Friday extolled the leadership virtues of the late former Governor of the Central Bank of Nigeria (CBN), Malam Adamu Ciroma, describing him as an administrator with integrity.
They gave the accolades while commenting on his death in interviews with the Newsmen in Lagos.
The immediate-past President of the Chartered Institute of Bankers of Nigeria (CIBN), Prof. Olusegun Ajibola, said that the late Ciroma did his best in whatever position he found himself.
Ajibola said he contributed positively to the growth of the financial industry and to the economy at large.
"Ciroma, as I know him personally, was an experience person and an administrator. As we all know of him, he was someone that approached his colleagues with some level of respect.
"When he was the Minister of Finance, he did his best in managing resources and also brought about fundamental changes to the management of finances in Nigeria.
"So, I think Nigeria has lost one of its best technocrats because he was a very good administrator and a disciplined public office holder.
"Nigerians will miss his experience and disciplined approach to the management of men and materials.''
Dr Samuel Nzekwe, a former President of the Association of National Accountants of Nigeria (ANAN) decribed him as a fairless and disciplined Nigerian.
Nzekwe said the country had once again lost a `quality person' whose wealth of experience the younger generation could have benefited from.
"I met him when he was Minister of Finance during President Olusegun Obasanjo administration from 1999 to 2003. He was a very strict man and a principled fellow and was fearless in the way he handled issues.
"He was not a careless but a quality human being and he was like the famous politician, Malam Aminu Kano, in character.
"May his soul rest in peace. It unfortunate that Nigeria is losing all those righteous individuals, but God knows the best," he added.
Also, Mr Titus Okurounmu, a former Director, Department of Research, CBN, recalled that there had never been a time that something bad was written about his boss.
He noted that Malam Ciroma was one of the good Governors at the CBN.
Okurounmu said: "Nothing ill was written about him. He was a boss and I think during his tenure as the CBN Governor, the economy did not do badly.''
Adamu Ciroma was born on Nov. 20, 1934. A statesman, presidential hopeful, first editor of the New Nigerian newspapers, and a former Governor of the Central Bank of Nigeria, he died on July 5 in Abuja at 84.