Niger Delta militant leaders who constitute members of the Amnesty Phase 3 programme, weekend had a crucial meeting in Benin City, Edo State where they took some decisions on the way forward for the Niger Delta and also elected officials to run the affairs of the group.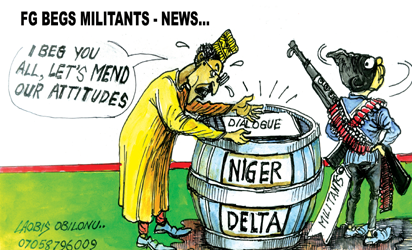 According to Godgift Igoli, aka Lacto Marine, who was elected the national chairman, "The era of impunity is far gone. We are bringing in durable suggestions for sustainable peace in the Niger Delta region.
"With Professor Charles Dokubo assigned the duty of coordinating the Presidential Amnesty Programme, we have nothing to fear as from all indices, he is the right choice for that position."
Adding his voice, the Vice Chairman, Samson Funpuwei called for synergy among members of the group, "As that is the only way we can achieve some measure of success in our desire to correct the mistakes of the past.
"The task of doing it right in order to get to the promised land is a collective one we must all join hands to achieve."
Other officials elected include Monos Wilberforce (Secretary), Godstime Ogidigba(Spokesman), Omoko Vincent(PRO) and Andakuro Randy(Mobilisation Officer).