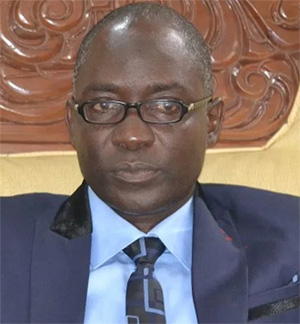 Prof-Kolapo-Olusola
By Dapo Akinrefon
PROFESSOR Kolapo Olubunmi Olusola is the governorship candidate  of the People's Democratic Party, PDP, in Ekiti State, who will be
slugging it out with other contestants during the July 14 elections. Prof. Olusola, popularly referred to as Eleka, spoke with some select journalists in Ado-Ekiti, perhaps the first major interview he will be granting since assumption of office in October 2014.
He speaks, among other issues, on his SHIELD continuity agenda for Ekiti State if elected governor, his resolve to continue with the stomach infrastructure programme initiated by Governor Ayodele Fayose and the need for devolution of power in Nigeria. Excerpts:
When Governor Fayose assumed office, he made it clear that you will be leaving with him after the expiration of the tenure but along the line, he chose you as his successor. At what point did you decide to join the fray and what informed your decision to accept the governor's offer?
My answer is that when God says yes, no man can say no. Fayose is a man that fears God, of course he was talking as a human being when we first came in but when God talked to him that this was His own thought, he surrendered to the will of God. I had a personal conviction of it as well.
The opinion out there is that the governor is trying to cover his tracks by choosing you…
(Cuts in) I have said it several times; they should come out with the tracks he wants to cover. If you are saying someone wants to cover his tracks, then make it known to the whole world the tracks he wants to cover. To me, there are no tracks to cover. And this is not the first time someone will be supporting one of his followers to succeed him. The APC that is shouting now, didn't Asiwaju Bola Tinubu support Babatunde Fashola? Everyone knew he supported Akinwunmi Ambode to become governor. So, what is new there? The most important thing is the will of God, if it is the will of God, then we key into it. That is why I am very confident that I am going to win that July 14 election because I am not going there by my strength, it is an issue that is settled by God Almighty Himself.
What is the SHIELD programme all about?
My agenda for the state, if elected as the governor on July 14, is encapsulated in what I call SHIELD, a continuity agenda that is designed to improve on what we have on ground and make it better. SHIELD is an acronym:  S stands for security, sustainable human development and social welfare; H stands for healthcare; I stands for infrastructural and industrial development; E stands for education and enterprise development; L stands for leadership and governance; and the last one, which is D, has to do with development of agriculture and tourism. These summarise my vision for Ekiti and the people.
If elected, will you sustain the anti-open grazing law?
Well, there is a difference between ranching and colony. The word colony itself is irritating. What do you want to colonise? But ranching is an internationally-accepted approach and there is nothing wrong with cattle ranches. We are not saying no to cattle ranches and I want us to establish that. What we are saying is that there should be no place for colonies. They should not deceive Nigerians by playing with words.
There is a difference between establishing a ranch and a colony. In a colony, you take over the whole place and say it is your own, but in a cattle ranch, Yoruba can be there with the Hausa and Igbo; anybody who is interested in animal husbandry or to rear cows can all be there in the same environment. So the land does not belong to any particular tribe. They can be given a space there to operate and it does not have to be the Fulani alone. So, I am not against cattle ranches. As a governor, I can go ahead and support the establishment of cattle ranches, but not a colony.
You spoke about continuity and sustainability. What are the other things that you want to bring in that would be different from what we have in the Governor Fayose administration?
Well, under security, I talked about deployment of ICT and cameras in all sensitive areas. That is not in existence in this administration. I talked about improvement on what we presently have on ground. Also, we should have what I call spy masters. We are going to employ some young people and give them the name, spy masters. They will be all over the place here: they are not carrying arm, but they will be there to give information.
We have over 40,000 Peace Corps members in the state and some other para-military organisations. A good number of them are unemployed. Some of them can be employed as spy masters to give information on security issues. We are going to synergise with the security agencies to ensure that we have adequate information on time so as to checkmate occurrence of any event that would cause security lapses within the system. We will study the existing system, look at the gaps and fill them. Some of these measures I mentioned now are not on ground, but we are definitely going to introduce them.
How confident are you that INEC will be fair? Are you also afraid of the federal might?
Well, INEC is expected to conduct credible elections but we have seen it in some other places that sometimes what you see is not what you get and that is why we are not sleeping. We are sensitising our people, when you vote, you must stand around there and watch over your votes. Federal might or no federal might, the might of God is the greatest. Don't forget, the power of the people should not be under estimated. Ekiti is not like Ondo State or any other state. If they have done that in Ondo State, they cannot do that in Ekiti State. Ekiti people are ready to resist any form of fraudulent practices. Ekiti people know what they want. In all my campaigns, I have been telling the people to watch over their votes.
The power of the people is greater than those of us in power, they should understand that. Don't forget that the security agents are also human beings. We expect the security agencies to be impartial, we expect INEC to play an impartial role but whatever happens, we know God is on our side. The God factor cannot be ruled out.
Still talking about your chances, two governorship candidates are from your town, Ikere. Are you still confident of votes from your…
(Cuts in) There are players and there are pretenders. Three factors determine whether you win and they are very important in an election. First is the platform that is the party. Is it a well known party? Is it a party known just in one corner? PDP is a party known all over Nigeria. Some people are running on some platforms that are only known within the corner of their bedroom. So, the platform is very important; then, the personality and of course, the people.