kaduna—Governor Nasir El-Rufai of Kaduna State has described senators who defected from the All Progressives Congress, APC, as corrupt politicians afraid of being arrested if President Muhammadu Buhari wins his second term bid.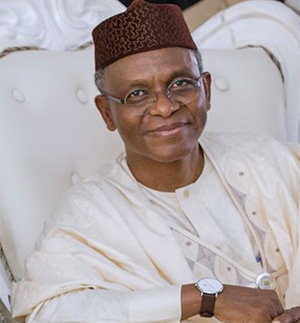 The governor said President Buhari dislikes corruption and would not work with any corrupt politician to cheat Nigeria.
14 senators and 37 members of the House of Representatives left the APC, including a Kaduna senator, Suleiman Hunkuyi, who joined the Peoples Democratic Party, PDP.
El-Rufai, who described the defecting senators as enemies of President Buhari and Nigerians, stated this while answering questions during a Hausa media chat aired on radio stations in the state weekend.
According to him, Buhari made only three promises to Nigerians during 2015 elections, namely address insecurity (Boko Haram), improve the economy  and fight corruption.
"Why did these people (senators) leave APC? It's because they love bribe and were afraid of what President Muhammadu Buhari will do to them if he gets re-elected.
''This is just the truth. What joined them together is that they love bribery and  corruption and they are afraid President Buhari will deal with them.
"Nobody will criticise this government for lack of performance because they are trying their best. If the senators were honestly supporting the president, he would have achieved more than what he currently achieved; but instead they are sabotaging his effort," he said.
According to him, the Senate leadership under Senate President Bukola Saraki is the worst in Nigeria's history.
He said: "He gave them budget (2018), they sat over it for 7-8 months without passage. The House of Representative members are more honest and trustworthy.
"But those in the Senate have nothing in mind rather than looking for money. Senate leadership under Bukola Saraki is the worst and no good leadership in the Senate.'' he said.
El-Rufai's criticism of Mr Saraki has been  replied by a pro-Saraki senator, Rafiu Ibrahim (PDP, Kwara), who alleged that El-Rufai was angry at Saraki because of the Senate's refusal to approve $350 million loan sought by the Kaduna State government from funders.
Speaking further on the defections, El-Rufai said: "It's not surprising because we have been hearing that many senators will defect.
"We heard about it, even though some of the senators whose names appeared among those that defected denied it.
"We have been assured that our party, APC, still controls majority in the senate. I have confidence in our new party chairman, Adams Oshiomhole, that he will  handle the issue well and any governor in his state will also take measures.
"We were also told that apart from the senators, there are also governors that will defect. We wish them well because we know those who cannot win election in their homes among them. They are only elected into Senate based on Buhari's factor or popularity.
"Majority of them were elected because their election was conducted same day with President Buhari.  If they think they can win alone, we wish them luck."
The governor, who also spoke on some federal lawmakers who defected from his state, said: "In Kaduna, we have 11 APC House of Reps members. Later, (Adams) Jagaba left for PDP and