…As South African Presidents says criminals responsible for killing Nigerians
By Johnbosco Agbakwuru
ABUJA – PRESIDENT Muhammadu Buhari Wednesday explained that the reason for his delay in signing the African Continental Free Trade Agreement, AfCTA, was to ensure that he understands the implications of the agreement so that he will not enslave the Nigerian business class.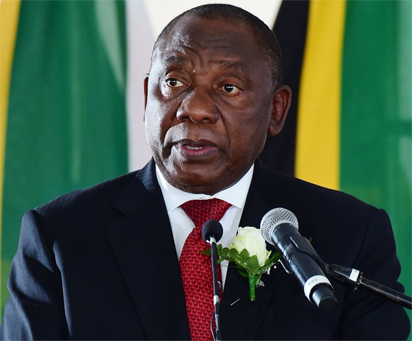 President Buhari who stated this in a joint press briefing with President Cyril Ramaphosa of South Africa at the Presidential Villa, Abuja, also indicated that he will soon sign the agreement
This is as the South Africa president has accused criminal elements in the country of being responsible for the killing of Nigerians in South Africa.
Fielding question from a South African journalist on when Nigeria will being one of the biggest economy in Africa will sign the AfCTA, President Buhari said, "I am very careful about what I sign whether it is my checkbook or agreements especially when it involves nation, states.
"As your president has said, we are so populated and have so many young unemployed citizens and our industries are just coming up. So, in trying to guarantee employment, goods and services in our country, we have to be careful with agreements that will compete maybe successfully against our upcoming industries.
"I was presented with the document; I am a very slow reader maybe, because I was an ex- soldier. I didn't read it fast enough before my officials saw that it was all right for signature. I kept it on my table. I will soon sign it."
On his part, the South African President who was asked by a Nigerian journalist on what his government was doing specifically to stop frequent killings of Nigerians in his country said that those killing Nigerians were the criminal elements in the country and that they would soon be fished out.
According to him, "There has been quite a number of incidences in our country where foreign nationals some of whom are Nigerians have lost their lives and are being attacked. I will like to say here and now that that has been as a result of criminal activity among our own people which we are focusing on from a criminal element point of view.
"I want to state here and now that South Africans do not have any form of negative disposition or hatred towards Nigerians and in the main Nigerians in South Africa and a number of places of our country live side by side, they corporate very well and some are in the corporate structures of our various companies and some are traders and some are into a number of things.
"So, I want to dispel this notion that when a Nigerian loses his or her life in South Africa, it is as a result of an intentional action by South Africans against Nigerians. That is simply not true.
"You will know that South Africa has a number of challenges, one of which is criminality and which is all pervasive. We have over a number of years been bringing down a number of crimes in our country and we are working on a concerted basis to ensure that crime does come down.
"And the criminality that we have is borne out of a number of factors; one of those is unemployment among people. 27 percent of South Africans are unemployed which amount to about nine million and most of these are young people. Poverty is still all pervasive in South Africa and this emanate front our very sad history of apartheid misrule.
"There is still inequality in South Africa, a few people are extremely rich and majority of our people are very poor and all these factors and other social factors have contributed to the high levels of crime. And criminality is something like I said that we are focusing on, doing everything to bring it down.
"And on top of everything else, people in various parts of the country who get engulfed in acts of criminality, majority of them are South Africans and some of them will be foreign nationals and will either be Nigerians and other people from other countries.
"These are acts of criminality and I want to end by saying that, when we were involved in our struggle, we said that the South Africa that we are fighting for is the South Africa which will regard everyone who lives in South Africa on the basis of equality, respect for human right.
"And we said that South Africa belongs to all the people who live in it. So, the Nigerians who are in South Africa are also part of our community. They can never be targeted on an intentional basis as people who must either be attacked or killed and when that happens, l will like all of us to see that as an act of criminality which in the main affect many South Africans in the various parts of our country.
"In that regard, we will like that you should never think that it is being done against Nigerians intentionally.
"It is an act of criminality and our government is determined to bring the levels of criminality down and also to go after those who perpetrate these acts of criminality. So that anyone who attacks anyone in South Africa will be pursued with the might of the law to make sure they are brought to justice."
President Ramaphosa had in his remarks stated that since he took over office his visit in the country was the first visit that he was undertaking beyond the borders of Southern African Development Community (SADC) countries.
He said, "In the form of country to country, we decided that the very first visit that I should pay as head of state of South Africa, should be to Nigeria. This should send a clear signal that our government intends to pursue Africa's focused foreign policy.
"But in pursuing that African focused foreign policy, we would like to deepen our relationship with Nigeria, seeing that Nigeria is the most populous country on the whole continent whose economy is the largest on our continent.
It is important that South Africa and Nigeria should develop and deepen the relationships between the two countries. Deepen them at a people to people level but also at an economy level and of course underpin by good political relations between the two countries.
"At an economy level, our various companies from South Africa are already doing business here and in a number of ways are diplomats of our country. At the political level, we took time during our discussions to thank the people of Nigeria and the leadership of Nigeria over the many years for the support they gave to our struggle.
"Today, we are a free and independent country and this is largely due to the support that we got from a number of countries around the world but more especially on the African continent.
"Nigeria which is six hours away from South Africa was proudly regarded as a front line state because it was really at the frontline of our titanic struggle against apartheid. Nigeria and indeed Nigerians never blinked for a minute in support of our struggle.
"In fact, Nigerians even took it a little further; President Buhari related that Nigerians through their households contributed money into the Organization of African Union Fund to support the struggle against apartheid. So, I took time to thank President Buhari and Nigerians for the support that we received during our struggle.
"We also had time of course to reconfirm that we do want to deepen the relations between the two countries. To this end, we are going to focus on the Bi-National Commission that was set up between our two countries and make sure that the place where it is elevated to at the president level, is where the action should happen."