By Peter Duru, Makurdi
Three days after impeaching Mr. Terkimbi Ikyange as Speaker of the Benue State House of Assembly, the lawmakers, Friday slammed a six months suspension on the embattled lawmaker representing Ushongo state constituency for acts of insubordination.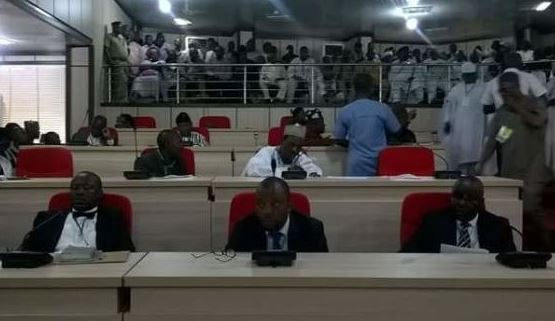 The lawmakers who were earlier prevented from gaining entrance into the complex by stern looking police personnel who took over the main entrance gate, forcing the House to move its sitting to the old banquet hall in adjoining Benue Government House also urged Mr. Ikyange to return all documents and property of the Assembly in his possession to the relevant authorities.
This was part of the resolution reached at end of plenary attended by 22 our of the 30 members of the Assembly drawn from both the All Progressives Congress, APC, and the Peoples Democratic Party, PDP.
The House also directed that "the state commissioner of police should be invited to explain reason why the policemen laid sieged on the Assembly complex preventing members from carrying out their legitimate duties. We are also ordering the Commissioner to remove all the policemen recently deployed to the complex."
Earlier Majority Leader of the House, Mr. Avine Agbom had raised separate motions calling for the invitation of the Commissioner of Police to explain the sudden invasion of the Assembly complex by stern looking policemen and for the suspension of the former speaker.
Supporting the motion, the Deputy speaker, Mr. Egli Ahubi of Otukpo/Akpa state constituency and other members, including Paul Biam representing Ukum and Sule Audu of Agatu who contributed to the motions described the attitude of the impeached speaker who they alleged led the blockage of the entrance of the Assembly complex, amounted to acts of insubordination which they said must not be condoned.
In a related development, the only member of the Labor Party in the House, Mr. Tor Aye representing Katsina Alla state constituency also presented a letter informing the members of his defection to Peoples Democratic Party, PDP.
According to the letter read on the floor of the House, the lawmaker said he was defecting because of the crisis bedeviling his part.
Subscribe for latest Videos