With construction of three deep sea ports in the country, Nigeria is opening up its waters for trade with the rest of the world. These ports, located in Lagos and Akwa Ibom states, are the efforts of a public private partnership aimed at increasing revenue generation, creating employment and increasing tonnage for the Nigerian Ship Registry. And central to this new vista is the Nigerian Maritime Administration and Safety Agency (NIMASA). But, established in 2007 through the passage of the NIMASA Act 2007 by the National Assembly, NIMASA does not concern itself with only port matters.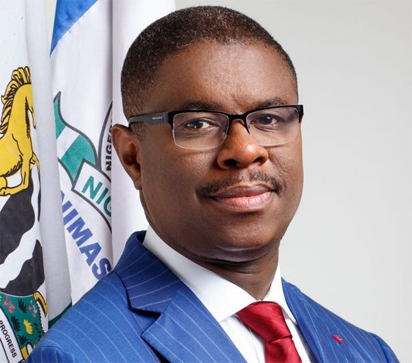 NIMASA was the 2006 merger of National Maritime Authority (NMA) (established in 1987) and Joint Maritime Labour Industrial Council (JOMALIC) (established in 1999) as part of the reforms of 2004 – 2006.Charged with the mandate of regulating and promoting maritime safety, pollution and labour in the maritime sector, NIMASA also promotes the development of indigenous commercial shipping capacity in international and coastal shipping trade. And in 2015, when the President Muhammadu Buhari administration began its 'change' mantra, keen on ensuring best practice, cost-cutting and local focus, Ministries, Departments and Agencies (MDAs) geared up, NIMASA inclusive.
In March 2016, Dr. Dakuku Peterside, who was appointed as NIMASADirector-General, swung into action with a Strategic Implementation Plan (SIP) aimed at sustainable growth in the country's maritime industry. Appreciating that the maritime sector will grow faster with Foreign Direct Investment (FDI), in line with federal government's Economic Recovery and Growth Plan (ERGP), NIMASA articulated medium-term economic policies to implement over 2017/2020 via a Medium Term Strategic Plan (MTSP).
Upon assuming office, Dr. Peterside laid his leadership and strategic priorities to guide the Agency's objectives. And by infusing new work ethics in NIMASA, the Dr. Peterside-led Executive Management gave staff a new reorientation and boosting staff morale by promoting about 1, 000 deserving staff within two years. Also, on April 10, 2018, Dr. Cleopatra Doumbia-Henry, president of World Maritime University (WMU), and Dr. Peterside signed a four-year renewable Memorandum of Understanding which covers academic collaborative and reciprocal activities in the field of education, training, research and other areas of capacity-building to be provided by WMU to NIMASA.
And in order to attract FDIs, within the past three years, NIMASA has embraced the globe, participating in the Oil Trading Conference (OTC), Norway Shipping Week and London Shipping Week among other foreign expos. And some benefits include an agreement to sign Joint Declaration on Economic Cooperation between Nigeria and Iceland, Liechtenstein, Norway and the Swiss Confederation (the "EFTA States"). In April 2017, NIMASA in partnership with the International Maritime Organization (IMO) successfully hosted the Third Association of African Maritime Administrations' (AAMA) Conference in Abuja where discussions held on strengthening Africa's maritime bond. In recognition of NIMASA's leadership role on the continent, the Director General of the Agency, Dr. Peterside was elected Chairman of AAMA for 2017/ 2018. Under his stewardship, the Chairman has steered two sessions of the Executive Council of AAMA (one in September 2017, hosted by the Arab Academy for Science, Technology and Maritime Transport (ASSTMT) while the second session was hosted by the Kenya Maritime Authority in Mombasa in February 2018).
And in compliance with the Executive Order on Ease of Doing Business, NIMASA has  reduced turnaround time from three days to 24 hours in processing of cargo manifests for and issuance of sailing clearance certificates, trade reconciliation and  enforcement of levy on vessels husbanded by Shipping Companies/Agents. The Agency aims at full automating the billing processes to further reduce turn-around time for vessel billing and sailing clearance to six hours.
For best practice, NIMASA has deployed satellite surveillance Infrastructure to enable it monitor shipping activities and the marine environment in real time for safety, security and administration. This package essentially exposes all illicit activities of operators while also aiding the Agency in providing the required assistance in the event of maritime distress calls. Also, the Agency is optimistic that the Anti-Piracy Bill which seeks a safer maritime environment will be passed into law in 2018. However, the Agency is already co-operating with Ghana Maritime Authority. Both maritime bodies signed a four-year memorandum of Understanding (MoU) which covers Knowledge Transfer and sharing Initiative between both Agencies; Joint Capacity Building Initiative; Cabotage Enforcement Joint Study Initiative; Joint Comparative Research Initiative and Joint Efforts to combat Piracy and Terrorism Initiative.
The National Search and Rescue (SAR) Committee was also constituted in line with International Maritime Organization's (IMO) Global SAR plan to find a way of improving on the discharge of SAR duties on Nigerian waters. The Third Regional SAR Committee for the Nigerian SAR Region held in Lagos in October, 2017. Delegates from the nine member countries under the Nigerian SAR Region, were; Nigeria, Benin, Cameroon, Congo, D.R. Congo, Equatorial Guinea, Gabon, Sao Tome & Principe and Togo. Under the present dispensation, the Regional SAR Committee is now more active and its capacity to attain set objectives has been enhanced.
In 2016, NIMASA approved one ship scrapping permit and four permits in 2017 for ship recycling yards. And concerned about the health, safety and environment risks associated with ship dismantling, NIMASA proactively put in place modalities and requirements for ship breaking in line with the Hong Kong Convention which is about to be ratified. Effort is also being made to domesticate the Nairobi Convention.
Currently with three deep sea ports being built simultaneously in the country, NIMASA understands that marine dredging puts pressure on the environment. Hence, to ensure that these projects are sustainable, the Agency developed a permitting guideline for dredging and dumping at sea, and a checklist for monitoring, in line with London Protocol.
Since the last two years the Agency as the Designated Authority for the implementation of the International Ship and Port facility security Code (ISPS) has achieved over 80% compliance rate, from 10% rate three years ago. Find attached table
While the Agency's efforts was commended by the United States Coast Guard Team that visited Nigeria early last year, Under Dakuku, NIMASA's goal is to attain a 100% compliance level within the next 12 months.
And towards the effective discharge of its role and help to other industry participants in their planning, NIMASA in February 2018 published its Outlook and Forecasts for the Nigerian Maritime Sector covering 2018 and 2019. This milestone publication, the first ever Maritime Industry forecast coordinated by government, published 1) Review of the Nigerian maritime industry in 2017; 2) Expected international and local developments in Policy and Regulatory Environment for the Maritime Sector In 2018 and 2019; and 3) Emerging Opportunities and Challenges – Implications for the Maritime Industry.
Thus far, the reforms in NIMASA have translated into increased contribution to the Federal Government's Consolidated Revenue Fund (CRF) by the Agency despite the downturn in the economy. But there is more potential.NIMASA is set to take delivery of the 5th largest modular floating dockyard on the African continent. This Dockyard will save the Federal Government of Nigeria, at least, 100 million dollars annually. This will be direct savings from the dry docking of vessels operating in Nigeria, which are mostly done outside the country. It is the Agency's desire to partner the private sector to run the dockyard. The Agency has sought the support of the Nigerian Ports Authority (NPA) for a berth at the Apapa Dockyard to dock the Modular Floating Dockyard for the time being and in this regard entered into MoU with Naira Limited for technical support.
Also, working in collaboration with the Federal Ministry of Transportation, NIMASA is working towards establishing a National Shipping line
Already, some foreign countries are taking note of the country's potential. An eight-man trade delegation from Poland led by the Deputy Minister of Economy, Mr. Andrej Dycha and a delegation from Ethiopian Embassy, led by their Ambassador to Nigeria were among visitors attended to at the Agency's desk at the Nigeria Investment Promotion Council (NIPC) Abuja in 2017. And with a population of about 200 million and a coastline of 853km, there is still room for more investment.
ISPS Compliance Indicator:
ISPS Compliance Indicator:
S/N           KEY PARAMETER                                                                                                          2016       2017       %Diff
1      ISPS compliant facilities out of 145 facilities documented                                114         120         5.26
2      Registration of Recognized Security Organization (RSO)                   19           15           21.05
3      Renewal of RSO Licenses                                                                                                          11           7              27.3
4      Port Facility Security Plan (PFSP):                                                                           57           70           22.8
5      Issuance of Statement of Compliance (SoC) to Offshore facility     23           8              65.2
6      Issuance of Statement of Compliance (SoC) to Port Facilities          58           50           13.8
7      Enforcement of  Defaulting facilities                                                                      8              11           37.5
8      Registration of Guard Force Companies                                                                8              70           775
9              Renewal of Guard Force licenses                                                                                     26           20           23.08