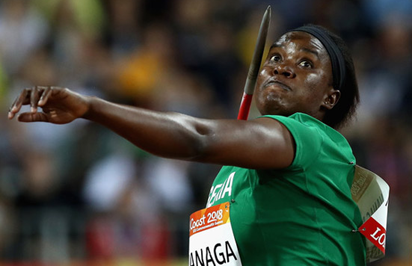 •Nwanaga
•Nwanaga
By Ben Efe
Former Nigerian junior athlete, Kelechi Nwanaga revealed that her top ambition is to win gold at the African Championships billed for August 1-5 in Asaba, Delta State.
Nwanaga said enthusiastically that having dominated the junior category and  also came close to winning the title twice it was fitting she takes the African senior title in Asaba, to complement the All Africa Games gold she won 2015 in Congo Brazzaville.
The Enugu-born athlete who in earlier in the year is already in the country from her base in the USA where she is a freshman at the University of Maryland, Baltimore County. She warmed her way into the hearts of athletics enthusiasts in that institution by throwing 51.64m to set a new school record.
Having picked up some useful tips from her school coach Koumelis, Nwanaga stated that she is bound to improve on her personal best of 58.15m.
"Everything we do is only by the grace of God. I'm ready for the championships with one aim of winning the gold.
"Before coming to back home I did 55.09 m so am looking at 64m by His grace," said Nwanaga.
"I only had one junior title which is the one we had at Ethiopia. I have had silver at the last African championships and so it is time to make it gold."