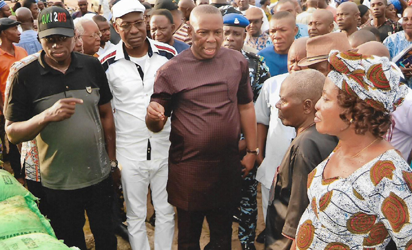 BY ANAYO OKOLI
UMUAHIA- IN response to the Federal Government's campaign for Nigerians to embrace farming, the Speaker of Abia State House of Assembly, Mr. Chikwendu Kalu has procured and distributed over 1000 bags of fertiliser to some of his constituents to encourage them to go into farming, saying that that is one of the ways to improve the nation's economy.
Kalu also told his constituents that besides being self-sufficient in food production and being able to feed their families well, agriculture would equally provide them some money.
Distributing the fertilisers to them, Kalu urged the leaders of the 10 wards in his constituency to ensure equitable and fair distribution of the products to genuine farmers in the various wards so that the purpose of the gesture would be realised.
He charged the beneficiaries to make good use of the fertilisers, saying that it would improve their standard of living and make them depend less on Government patronage.
According to him, he procured the fertilisers to help in alleviating the difficulty the rural farmers in his constituency go through and to help them improve their harvest this farming year.
The Speaker also lauded the people for their  support to the administration of Governor Okezie Ikpeazu, and urged them not to relent, assuring them of better days ahead.
In their various speeches, leaders from the various wards that make up Isialangwa South State Constituency which Kalu represents, commended him for his leadership qualities and assured him of their continued support.