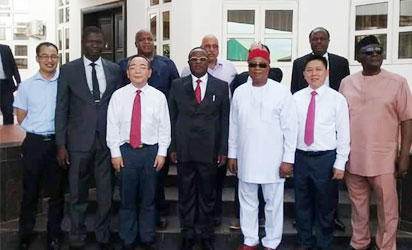 •Governor David Umahi of Ebonyi State, Chief Cletus Ibeto of Ibeto Group of Companies and others at Government House, Abakaliki after a courtesy call.
By Peter Okutu
ABAKALIKI-NIGERIA Cement Company, NIGERCEM, Nkalagu in Ishielu Local Government Area of Ebonyi State which was acclaimed to be irredeemably without any future by former Governor Martin Elechi has now bounced back through the instrumentality and visionary leadership of Governor David Umahi who is not only out to stimulate the economy of the state but also boost the per capita income, PCI, of every Ebonyi citizen.
Despite criticisms that greeted Governor Umahi's doggedness to get the company working again, the governor was unrelenting as he made policies and took far-reaching decisions for the betterment of Ebonyi State.
Networking with experts to ensure the speedy revamping of NIGERCEM which was established in 1958, the state government together with the host communities of Nkalagu, Nkalaha, Umuhali and Amaezu signed a pact with Ibeto Group of Companies that would kick-start NIGERCEM.
The historic pact was backed by stakeholders in Ishielu Local Government Area, including traditional rulers as well as state government functionaries and the core investors, knowing full well that the initiative would go a long way in creating massive employment and making Ebonyi a safe haven for investors.
After the pact was signed, Ibeto Group of Companies decided to carry out further preliminary studies on the viability and profitability of NIGERCEM and at the end of the exercise; it decided to invest funds and expertise to the once giant cement company in the South-East.
The accomplishment so far recorded by Ibeto Group of Companies through the Governor David Umahi-led administration has brought to nought the propaganda that NIGERCEM was moribund, dilapidated and in a state of irreversible disrepair as championed by previous administrations in the state.
South-East Voice gathered that with the return of experts- both foreign and local – to Nkalagu Cement Company and the proposed establishment of a new cement plant at Effium in Ohaukwu Local Government Area of the state, Ebonyi State Government would soon join the league of cement-producing states in the country.
Receiving Chief Cletus Ibeto, his team of engineers and foreign partners, Governor Umahi, who expressed joy with the ingenuity and dedication of Ibeto Company towards the revamping of NIGERCEM, assured them of government's continued assistance and partnership in the discharge of their assignment.
"Thank you for coming with the technical partners. It is a practical proof that we are on course and that we are back to site. On your request, we have built the roads on concrete base and we have the confidence that it will last for over 50 years.
"We will build all the bridges there to ease transportation. The Enugu State Governor is building the roads from the other end. We have done two bridges out of  the seven bridges, and we are going to complete it. We are going to have flyover at the Nkalagu junction to enhance business.
"I am happy that NIGERCEM will be producing 6,000 metric tonnes per day. We will give you all the assistance and all the security you need to enable you do the job. Effium people made one request which is to cite a cement plant in that area. I am happy that the request has been granted.
"In the Effium axis, we are also going to build a flyover and I want to tell you that the ring road will pass through the area. This will enhance transportation."
Earlier, Chief Cletus Ibeto who paid a courtesy call on the governor at the Government House, Abakaliki stated that his engineers were back to site after the agreement he had with the state government in 2015.
According to him, NIGERCEM will produce 6,000 metric tonnes of cement, while Effium new cement plant would produce 3,000 metric tonnes daily. Chief Cletus Ibeto, Chief Executive Officer of Ibeto Group of Companies further applauded the Governor for his faith and confidence that NIGERCEM would succeed against all odds.
"I am here to introduce my team with the big company that will develop NIGERCEM, Nkalagu Cement plant. This is a peaceful meeting and we are here to tell you that we are back to start the project. They will be going to Nkalagu every day and we will do the design of the plant. All we signed in 2015 contract will be implemented.
"We are going to start with 6,000 metric tonnes per day at Nkalagu. Nothing is going to be touched in the moribund plant. A new one will be set up. We are going to set up another plant. In Effium, we will produce 3,000 metric tonnes.