…. Says APC boycott helped peaceful outcome
…Stalemate in Degema over missing result sheets
…Rhythm reporter brutalised in Omoku
…APC Rep member defies party boycott, votes
By Egufe Yafugborhi & Davies Iheamnachor
PORT HARCOURT – GOVERNOR Nyesom Wike shunned casting his vote at his home Obia Akpor Ward 9, Unit 7, as apathy and calm marked Saturday's council elections across Rivers State's 23 local government areas, LGAs.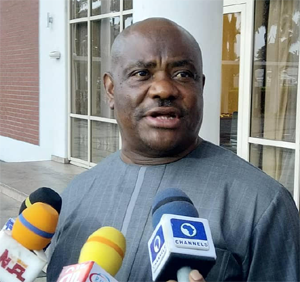 The governor who was being expected at the unit merely breezed past in a stretched convoy and never came for his vote cast past the 2pm closings of voting announced by the Rivers State Independent Electoral Commission, RSIEC.
The exercised boycotted by rival All Progressives Congress, APC, was peaceful and orderly, but marked by apathy, aggravated by delayed release of materials and arrival of electoral officials in most of the places in Port Harcourt metropolis visited.
There were, however, reported stalemate at Degema Ward 12 where a councilorship candidate raised alarm over missing result sheets while in volatile Omoku, Ogba Egbema Ndoni local government area, Precious Ahiaku, a reporter with Rhythm FM was ensnared and brutalised by suspected thugs.
Wike who monitored the exercise in some areas in Port Harcourt, opined that the boycott by the APC helped the peaceful outcome while praising RSIEC and security operatives for living up to expectation.
The governor said, "Sixty-six out of sixty-eight political parties participated, but no violence. That means that if APC had participated, probably we would have seen violence.
"Sixty-six political parties, no shooting, nobody has died. But if the APC had participated, they would want to coerce security agencies, they would do all manners of negative things like bringing cultists to shoot. You can see that nobody hijacked materials. Everything has been peaceful.
"We have gone round two local government areas. The elections went on peacefully and they were credible. Election materials arrived on time , except for a few places. Like this, nobody will complain. Observers from across the board have commended the process ", Governor.
"I have called the heads of security agencies and commended them for a job well done. That is what I have always said. Allow people to vote for those they want".
He said the exercise should send a message to the Independent National Electoral Commission (INEC) that they can conduct credible elections if they resist pressures from different quarters.
"INEC can be committed to do the right thing. Once they build confidence, every other thing will move on smoothly ", the governor said.
Other stakeholders adduced the delayed arrival of materials and RSIEC officials as well as low turn out of voters to the early morning rains in some parts of the state while voting started quite on schedule in Omagwa, Ikwerre LGA where Peoples Democratic Party, PDP, strong voice, Samuel Nwanosike is expected to gain clean sweep of the votes for the chairmanship.
Nwanosike said: "We commend the police and other security agencies for their conduct. This is the first time that the governor raised alarm and the security operatives acted on it.
"This shows we are now in a new era when the security is out to protect lives and property. The process was peaceful. We thank RSIEC and the governor for keeping the promise of free and fair election. They gave all parties and candidates level playing field and we are indeed grateful."
Chief Tom Aliezi, PDP Chairmanship candidate for Emohua LGA said, "This is the first time we are having an election that is free and transparent. The process was peaceful and credible. In this polling unit voters turned out after the rain. There was no attack by anybody.
Tasie Wike, a legal practitioner who voted at Rumuepirikom Ward 9, Unit 7, Obia Akpor LGA said, "We thank God for an election where people can come out and vote their choice without fear or favour. You can see the enthusiasm. No intimidation, people are happy.
Meanwhile, against the position by the APC to boycott yesterday's election, Barry Mpigi, member representing Eleme- Onyigbo-Tai Federal Constituency, came out with his supporters to cast his vote in his Tai unit.
He said, "As a chieftain of the APC, I just casted my vote. It is unfortunate that APC refused to participate in the election because of the endless crisis that rocks the party.
"Today we're not talking about party but we're looking at dividends of democracy. Governor Nyesom Wike has performed very well and because Tai people are not ungrateful people we have said that he deserves another tenure.
" The only reason why Tai people may do a rethink is if gubernatorial ticket is giving to any Ogoni son. We don't need deputy governor or whatever, at the absent of the gubernatorial ticket for an Ogoni son, I hereby urge Tai people to support Wike till 2023″.