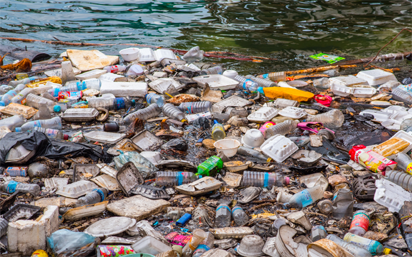 plastic pollution
Environmentalists who joined the rest of the world to celebrate this year's World Environment Day, WED, last week, urged government at all levels to intensify campaign against the dangers posed by indiscriminate dumping of plastic waste products all over the country, pointing out that Nigerians should be educated on the need to recycle the plastic waste rather than dumping the product in every available space.
The Founder and Chairperson, Friends Of The Environment, FOTE, Mrs. Joanna Maduka, an engineer, who led other environmentalists in Lagos at the World Environment Day celebration organised  by FOTE, in collaboration with the Conservation Club of the Federal Science and Technical College FSTC, Yaba,  West African Seasoning Nigeria PLC and others, made the call.
Mrs. Maduka who said her organisation recognises that solutions to plastic pollution will differ from community to community because of cultures and traditions, however, noted that FOTE realised the need to draw attention of the participants and students' environmental clubs to the scourge of plastic waste and its effects on human safety.
"We want to educate our young people about what is happening around them, for them to also let members of their communities know that indiscriminate disposal of plastic waste harms organisms in the seas, oceans and causes a lot of environmental problems.  When you have too much nylon in the environment, it prevents plants growth and some components of the material could contaminate human system.