England fans began to trickle into Volgograd on Sunday as the historic city offered a warm welcome before hosting its first World Cup match.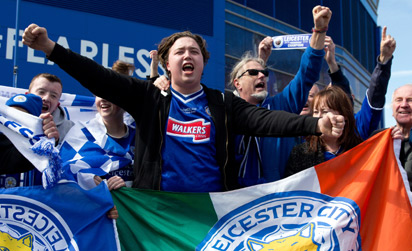 The Volgograd Arena stands on one of the major battlefields of World War Two, in the city formerly known as Stalingrad.
Two million people died during the Battle of Stalingrad but the city was peaceful on a sultry day as excitement builds over Monday's Group G encounter between England and Tunisia.
There had been concern in the run-up to the World Cup that Volgograd could be a flashpoint because of its historical importance to Russia and the risk of potentially provocative behaviour by England fans.
Two years ago at Euro 2016 there were violent clashes involving England supporters sparked by Russian fans in the French city of Marseille.
Most of the thousands of England fans expected for the match were due to arrive later Sunday after a 20-hour train journey from Moscow.
"Officially through the FA (Football Association), England fans have bought 2,200 tickets for this game. But we expect a few more have got some in the neutral sections," Thomas Concannon of England's Football Supporters' Federation (FSF) told AFP.
"I doubt if anyone will come here without a ticket because they were still on sale and England hadn't sold out their allocation."
He played down fears of trouble, with the England fan turnout expected to be much lower than during the European Championship in France two years ago, and security tight.
"In comparison to previous tournaments it is quite a light turnout because England always travel well, take 10,000, 20,000, 30,000 to a tournament," said Concannon.
"This is quite low. They've been put off by the prices. It is not a cheap trip. And it is not an easy place to get to."
FSF spokesman Luc Jones hoped there would be no repeat of the trouble at Euro 2016.
"So far we've found Volgograd very, very welcoming," Jones said in the shadow of a monument to the Russians who died fighting the Nazis in the centre of the city.
The new Volgograd Arena, where Monday's match will take place, is overlooked by the famous 85-metre-high Mamayev Kurgan, or "Motherland Calls" monument, the tallest statue in Europe.
"We are hoping it does go as smoothly as it should and the world's press will write about a great football tournament and nothing negative," said Jones.
The mayor of Volgograd, Andrei Kosalapov, said: "We have had no trouble from England fans and we do not expect any. Volgograd is a city of peace."
If trouble were to happen, Jones said, it would be more likely when England play Belgium in the final group match in Kaliningrad.
"The main one people are building up to is Kaliningrad," said Jones, adding they were expecting tens of thousands of England fans to swarm the city.
"It's an easy one to get to and it's Belgium, it's the decider. You can fly to Gdansk (in Poland) from anywhere in England and it's an hour across the border."