OLOROGUN Moses Taiga, son of the respected Joseph Taiga Zeze, an Ijaw man from Kiagbodo who currently presents himself as a factional President General, PG, of the Urhobo Progressive Union recently recruited two mendacious surrogates, one Francis Ewherido  and a politician by name Onokpasa, to gloss his history by trying vainly to re-write the patrilineal structure and nature of Urhobo society and history in their seperate articles titled: "Delta:season of omuru and umuta" and "why Taiga is solidly urhobo" .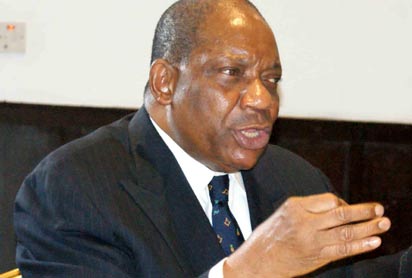 One's initial intention and intervention was to call the attention of all Urhobos to the gutter the Urhobo nation ran the risk of descending into, if the abominable usurpation of the Urhobo Progressive Union, UPU, by Taiga Zeze and his political masters was not checked by respected Urhobo sons and daughters. My concern is deeply rooted in the Urhobo cause hence one will refrain from the puerile language Messrs Ehwerido and Onokpasa indulged in, as they laboured unsuccessfully to hide the truth of their client's progeny and ended up confirming that Olorogun Moses Tiaga is an ljaw man from Kiagbodo vainly attempting to represent himself as the leader of Urhobos. Truth is constant, therefore I urge all Urhobo people and their respected neighbours to ask Mr. Taiga Zeze and his mendacious advocates to answer honestly to themselves and their conscience before the Urhobo people the following simple questions:
Has Olorogun Moses Taiga Zeze ever denied personally that his Father Mr. Joseph Taiga Zeze is not from Kiagbodo? Does Ewerido's circumlocution on the ancestry of Urhobos ; the fact of an "iconic landmark country home" built in Okpare in Urhobo land by Taiga; or that Taiga's father was buried in Urhobo land make both Zeze Taiga an ljawman from Kiagbodo and his son Moses Taiga Urhobos ? How can a man according to Ewerido be "an Urhobo all his life" yet when confronted with facts provided by himself in a book that he is  paternally  from kiagbodo, he prefers to hide behind two fingers and defend himself through illustrious sons of Urhobo  whose identity are not in doubt like him ? Can Moses Tiaga speak authoritatively like Ewerido and Onokpasa about his paternity? It is known that Mr. Moses Taiga Zeze has biological brothers, one, who was reputed to be very cerebral and lived  in the United States but unfortunately passed on, while the other one is resident Warri, both of whom  proudly claim their true  Kiagbodo identity unlike Moses Taiga. Why?
Interestingly, Ewerido himself puts the matter of Moses Taiga being an ljaw man from kiagbodo to rest when he wrote and l quote him "Urhobo is a patrilineal society, no doubt…so the issue is Taiga's patrilineage, his Urhobo matrilileage is not in question" . Moreover, what Ewerido referred to as "doubt about Taiga's patrilineage" had been cleared by the man himself on page 299 and 308 of the Book titled: Olomu And Development of Urhobo Land And Western Niger Delta" where it was categorically stated that Pa Joseph Zeze Taiga, Olorogun Moses Taiga's  father is from Matolo family in Kaigbodo. Is the Matolo family of Kiagbodo one of the 24 clans of Urhobo Kingdom from which UPU leaders must emanate? In pointing out the true progeny of Mr. Moses Taiga Zeze, a clear distinction of his mother's family in Okpare was explained and one never disclaimed this or his matrilineal lineage as Messrs Ewherido and Onokpasa in their separate articles pointedly admitted, but they could not make the same claim for Mr. Taiga's father and were unable  to point to his father's uncles who are from Okpare as they did  for his mother and here lies the tragedy of those defending Olorogun Moses Taiga's indefensible claim as an Urhobo leader and an impostor to the UPU post of President General. Taiga is a cousin to Urhobos and a leader of the Matolo Clan of Kiagbodo in Ijawland. It is unfortunate that he prefers to abdicate that leadership for unstated benefits in Urhoboland.
All that Ewherido and Onokpasa  laboured unsuccessfully to do were to dig up  parsimonious explanations to gloss Mr.Taiga's Kiagbodo patrilineage with such laughable references that Taiga's father and grand-father were both buried in Okpare, a very ridiculous argument given that this is quite beside the point because there are many Urhobos and other tribes who are buried  all over Nigeria. Does this make them indigenous to those places? Even more superficial is the notion that  "His only country home, an iconic landmark is near an  aderha  (three way junction)" in Okpare as a further buttress of his indigeneity.  If that is conclusive of claim of being Urhobo, then all the Urhobos with houses in landmark places in Lagos, Abuja and all over Nigeria must be indigenes of such places. Surely, Ewerido knows that all those references are absolute nonsense and he needs to  provide a less mendacious claim.
How could  Taiga's father's friendship with our foremost respected Urhobo leader Chief Mukoro Mowoe and his support that was enlisted during fund raising which is still a common practice today, be the basis of his being an Urhobo person? No intelligent person conflates biological genealogy with philanthropic collaboration. Furthermore, his Freudian slip that "Mowoe already knew the importance of collaborating with our neighbours" lends further weight and credence to Ewerido's confusion and conflation. Is that not what everyone has maintained all along, that Moses Taiga Zeze is the son of a good neighbour of Okpare and the son of an Okpare daughter? Ewerido says he has a problem with Urhobo patrilineal practice merely because he wants Moses Taiga -who is now a lame dock lacking the legitimacy of authority over Urhobos- to hang on as "his own"  preferred PG because he and some other people embarked on a risky but bogus trip on "January 1st 2017, while the rest of mankind was celebrating".  One must be clear here that Ewerido, Onokpasa and any other children of the of Urhobo Fathers  can aspire to any "nationality" position in Urhobo land like the President General of UPU but not the son or daughters of ljaw, lsoko, ltshekiri, Yoruba, lgbo or Fulani whose mother is Urhobo because Urhobos will not encourage similar conflation of traditions where it is unacceptable.  Urhobos have no problem with Moses Taiga claiming his Mother's  matrilineage as his personal home or country home and by Urhobo tradition he is first a Kiagbodo man. The preservation of the Urhobo tradition is what the UPU is primarily about, therefore, to elect a UPU president, the first criterion of eligibility is that you must be the head of an Urhobo family.
These are conditions precedent for eligibility to a Union that is inherently a nationality Union. As the son of an Urhobo daughter, it is not a truth that one should tell with leisure, but the truth must be told,  because if the body and soul must have peace, the man who suffers from an abscess must endure it when the abscess is lanced.
Anyone could be a church leader in Okpare, a leading community builder, a leading business and philanthropic leader as Ewerido said glowingly about Moses Taiga but all that would not change his paternity of kiagbodo to being Urhobo. What is questioned is his paternity and his eligibility by Urhobo tradition to lead all Urhobo people when he is of  Ijaw nationality. Olorogun Moses Taiga may have spent a long time in Urhobo land but unfortunately he is not rooted in Urhobo tradition and ethos otherwise he would have known that by the tradition of the 24 autonmous republican kingdoms of Urhoboland, he has no authority to confer a nebulous title of "Ochuko r' Urhobo" on Gov. Okowa because no such supra title exits. Interestingly, his surrogate Onokpasa, stated that, "in olorogun moses Taiga we now have a PG who does not need government bribe or patronage" , yet he has been alledgedly given a Prado Jeep and Hilux van by Governor Okowa, cruising around in these vehicles with registration plate bearing "URHOBO 1" seen by many who attended Rev.Father Abaka's mother burial at Alaka few days ago in Effurun Delta state, implying that he is the first citizen of Urhobo nationality. Whereas by tradition such appellation can only be for the kings of the Urhobo kingdoms or at best the chairman of the Urhobo Traditional Council.
The extent of disarray  of the Urhobos who should know the dangers  inherent in having such an impostor son of a neigbhour claiming leadership of  the foremost umbrella organization  of the Urhobos and carrying forward such abomination before the gathering of all Urhobos is quite unfortunate. The generational consequences of this abominable precedent of having an ljaw man claiming UPU leadership is one that all Urhobos world-wide should resist now. The UPU should not be a platform for endorsement of candidates for election nor should it be an affiliate of any government in power.
A dangerous dimension to the debasing of Urhobo interest is illustrated by the attempt  by Mr. Ewherido and his principal to reduce the leadership of the Urhobo nation to the collection of clientelist pittance in the disgraceful and despicable expectation of selling political endorsements to the highest bidder. Does this explain why illustrious Urhobo sons like Charles Obule who paid N120 million and Olorogun Otega who also paid N101million towards the building of the Urhobo centre at Uvwiamughe were refused the offers they made to complete the centre by Moses Taiga who himself pledged N25 million on the 11th of June 2011 and seven years after Moses Taiga has alledgedly not redeemed a kobo? Recently, he was approached and told that one of the highest donors wants to complete the project as a matter of pride to the Urhobo nation but Moses Taiga was said to have rejected the offer insisting that Gov. Okowa would complete it. Why should Okowa be the one to complete Uvwiamughe centre that Urhobo,  a project they all started with the millions they donated whereas Taiga himself since the time of Okumagba's leadership spanning the era of two other PGs till date has not paid the sum he pledged ? Could this be the basis of conferment of  the non-existent title of "Ochuko r' Urhobo for Okowa to hand him a blank check that will join his pledge in voicemail? Similarly, Ewerido and Onokpasa who are Taiga's surrogates should help explain to the Urhobo people why Moses Taiga has kept loud silence and has never uttered a word over the plight of the Urhobo Aladja people and the Ogbe-ljoh crisis?  The Urhobo nation should not beg for her rights, interest and privileges, neither are these values for sale to the highest bidder. All Urhobo sons and daughters can belong to any political grouping and it is incumbent on the true UPU leadership to encourage all of them,provide a template for the type of progressive development they must all strive to provide for Urhobos in particular and Deltans generally. It is even more shameful that any Urhobo man can debase a highly respected Urhobo tradition for welcoming guests, the "Siagware" by using it to describe the selling of Urhobo patrimony for a mess of political porridge.
In one breath Mr. Ehwerido admits that  Mr. Taiga Zeze's " Ijaw paternal ancestry is no secret", in another breath he calls those who amplify this fact purveyors of "cheap blackmail, sterile propaganda and selfish trouble shooting"  because they  seek that the Urhobo nation examine if such questionable loyalty to another tribe is an advisable credential for leadership of the premier Urhobo nationality group. Urhobos are comfortable and at peace with their neighbours, but when we meet them on the table of interests like the Urhobo Aladja people/ogbe-ljoh, the Urhobo nation will want to be certain it has no divided loyalty.
It is unfortunate  that Mr. Ewherido is uncomfortable with the notion that Urhobo people are questioning the authority from which Taiga draws legitimacy to give the incumbent Governor of Delta state a title or endorsing him for 2019 election. Sooner or later those who believe in the right of Urhobo sons and daughters to aspire and contest election to the office of Governor of the state whould realize that the ljaw man, Moses Taiga is not on the same page with them when they become sober from the heady inebriation with the usurped powers they have ascribed to him without proper election as required by the UPU constitution. Surely, they would regret and sober-up from this trajectory of impunity and shame with the use of a power they do not understand the basis of.
ln all of these, one thing is certain, Urhobos both home and in Diaspora are now aware that Moses Taiga is an ljaw  from the Matolo clan in Kiagbodo claiming leadership of the UPU and no self respecting Urhobo sons and daughters would follow him and take any directive from him on how Urhobos should go on any matter. Those who are seeking his endorsement by patronizing him for the 2019 election are wasting their time and resources because Moses Taiga is just taking a lonely walk and no reasonable Urhobo people are following him. He is only hanging on to serve the purpose of those using him to divided Urhobo people for their political gains. Imposing an Ijaw man on the Urhobo Union and its people will be counter-productive, it will only make the election of his identified sponsors  a referendum for  their rejection by Urhobos when the time comes. Therefore, Mr. Taiga Zeze and his sponsors are best advised to respect truth and justice which is cherished by Urhobo people or be prepared to be crushed by the weight of the peoples judgment.
Dr. Ufuoma, a public affairs analyst , wrote from Warri, Delta State.