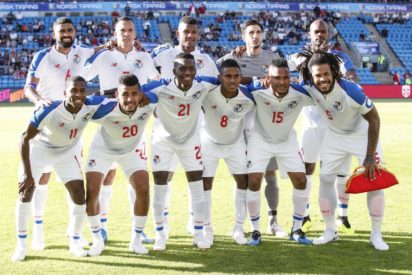 Panama's poses for a picture prior to the international friendly football match between Norway and Panama in Oslo on June 6, 2018. (Up L-R): Gabriel Gomez, Blas Perez, Fidel Escobar, Jaime Penedo and Adolfo Machado (Bottom L-R): Armando Cooper, Anibal Godoy, Jose Luis Rodriguez, Joel Barcenas, Erick Davis and Roman Torres / AFP PHOTO / NTB Scanpix / Terje PEDERSEN / Norway OUT
On a pot-holed street by Uganda's sprawling central jail, young men stream into a luminous betting shop that stands out from the surrounding dingy grocery stores lit by paraffin lamps.

Inside, dozens of men clasp handfuls of betting slips as they huddle around a flat-screen television blasting out live commentary from the opening game of the 2018 World Cup in Russia.
Ronald Nyenje, a driver, is backing the hosts to win against Saudi Arabia. "I support Russia because they're the hosts and they'll win this game and the whole competition," said the 25-year-old who staked 50,000 Uganda shillings ($13; 11 euros) on the curtain-raiser.
"I'll try to watch every game of the World Cup," said Nyenje, who gambles at the same betting shop every day.
Sports gambling has become a phenomenon across East Africa in recent years, driven by the ubiquity of satellite and digital television, and smartphones that enable online and app-based gambling.
"I feel very good when I'm betting," said Innocent Opiyo, a 26-year-old bricklayer.
"Sometimes I bet because I just want to pass time. I win. I lose. I win. I lose. So I don't know exactly if I have eaten them or they have eaten me, but I think I've eaten them," he said, totting up a vague but optimistic mental ledger of his six-year contest with the bookmakers.
In just a few years, betting shops have become a feature of cities, towns and villages across Uganda.
And while the national side failed to qualify for the World Cup — which kicked off in Russia on Thursday — Ugandan fans are set to flood betting shops during the month-long competition.
– Good/not good –
"Betting is good, but also not good," said Opiyo, acknowledging that a gambling addiction can cause you to bet money you don't have.
Government efforts to regulate gaming have proved patchy.
The National Gaming Board, established in 2016, has few resources, said boss Edgar Agaba, and little idea even of the scale of the industry.
New laws on the location, opening hours and minimum age for betting are widely ignored and rarely enforced.
On a recent big game night a bookie was open late at night, in a busy market, and heaved with young men, many apparently under 18, thus breaking the rules in three different ways.
Eddy Wanyangha, 24, said he once won 250,000 Uganda shillings ($65; 56 euros) betting on a football match. He spent his winnings on a goat and hopes for more success during the World Cup.
"I take it as leisure," he said, "but there are some people who take it as a job."
Ivan Kalanzi, 30, has found a less risky way to cash in on the sports betting craze, running a specialist consultancy offering advice on how to beat the bookies.
He claimed to have thousands of clients in Uganda and among the far-flung diaspora, running his global operation from a computer in the back of a small sportswear shop in a shabby Kampala mall.
– Betting with heart or head –
Using social media groups and text message platforms Kalanzi tips thousands of subscribers on which games offer the best chance to overcome the odds, keeping tabs on form in leagues "from Albania, Armenia, Azerbaijan all the way to Zambia."
Gamblers typically stake just 2,000 Uganda shillings ($0.50 dollars; 0.44 euros) but in a poor country like Uganda even small losses can quickly add up and the promise of a life-changing win encourages risky behaviour, according to researcher Sylvan Herskowitz.
With few functioning public services, problem gamblers commonly lack support.
But Kalanzi says he has a rule of thumb that excludes vulnerable clients: if you understand the odds system then, he reckons, "It's most likely you understand the meaning of losing a bet."
He predicts business will surge as the World Cup hots up but complains that with such a high-profile tournament the heart frequently rules the head.
"Most people think they know the results so they don't come to me," he said.
As an avid fan, Kalanzi is no different. When asked which team will win, he answers, "Brazil" without hesitation and not even a glance at his spreadsheets.