By Demola Akinyemi
Prince Olubunmi Isioye was the head of the business unit of the Zaria Branch of defunct Oceanic Bank before he was sacked.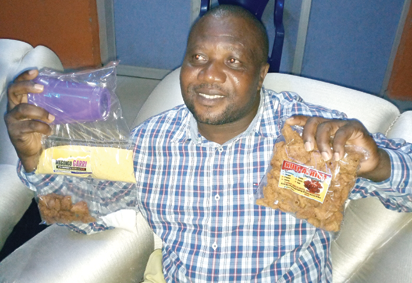 "I was so passionate about the job, and it was the hard work I put into the job that made the management of the bank to appoint me to supervise about 65 staff in Zaria where I was posted to work", Isioye, an MBA holder, told Sunday Vanguard in Ilorin, Kwara State where he now packages sugar, 'Kulikuli' and garri and sells after the sad experience of the termination of his appointment at the bank.
"I was 18 months into the job when I was sacked in October 2015 and that is what led me into my present experience", he said.
"I got the letter terminating my appointment on a Monday after I had just used my personal money to paint my office the previous Friday."
"Before this time, there was no complaint whatsoever about my job from my superior officers, no query. I was in charge of about 65 members of staff. I seemed to be in the good books of everyone. So, the sack came as a rude shock. I was destabilised. I wept profusely. After I calmed down, I wrote to the management that I deserved promotion and not sack, and they should tell me my offence.
"Since 2015, I have written several letters to the management of the bank but got no response".
Speaking on life after leaving the banking sector, he narrated, "I looked everywhere. I had nothing to do. My wife, who had MSc, couldn't get a job. I was the only one working in the family and we had two kids. Life was so difficult for us.
"I ran to several of my relations for help but nobody could help. I knew it was the same survival problem I was passing through that was affecting everyone. So I turned to God and started praying.
"Then one day, in the course of looking for what to do, I went to Abuja and had cause to service my car in a mechanics' workshop. There were over 1, 000 people in that place and it was a hot afternoon.
"Then the inspiration came. I thought that in a hot afternoon like this, drinking garri with Kulikuli and sugar, well packed in one bag, won't be a bad idea. Then I told the man working on my car that my wife was packaging garri, Kulikuli and sugar in bags and asked whether I could be bringing it for them to buy. The man was excited. He said that was exactly what they needed.
"But there was no money to start the business; so I immediately contacted some friends and told them my plan. In two days or so, I was able to raise about N50, 000 with which I started the business.
"Few days after, I took bags of garri, Kulikuli and sugar to the mechanics' workshop. The first inspiration I got was that, right there, the 250 packs I took there were bought. I was so happy".
Then he relocated to Zaria where he began having challenges with some National Agency for Foods and Drugs Administration and Control, NAFDAC, officials who, according to him, were always harassing him to come and register the product.
"I was shocked. I didn't have the money they were asking me to come and pay and I asked them how many of those women and girls selling Kulikuli and groundnuts on the streets did they harass? They didn't answer. They were troubling me because of the very special way I was doing the business. Later I started the process of registration, so they left me alone", Isioye said.
Later, he moved to Ilorin "in order to reduce the cost of living and the cost of production".
Today, he supplies banks, offices, supermarket across Kwara State his product while he also has customers in Abuja, Zaria and Kaduna among others.
He is a regular face on the streets of Ilorin brandishing his bags of Kulikuli, garri, groundnut and sugar for sale.
"Because of the challenge of capital, I can't afford to have permanent staff. So whenever I want to produce, I pick my staff, supervise them and pay them after production. I use almost same set of people. I feed them during production and pay them a token and they go. When next I need them, I call them", Isioye stated.
On what distinguishes his product from the ones sold on the streets, he said, "When I was in Zaria, what I did was to search for the best hand that was doing garri and I met the woman. She knows how to make it; I know it from the taste, and her patronage was high.
"As a business man and an MBA holder, what i did was to first analyse her own recipe. Then I increased the ingredients in my own. That is why people prefer mine to the ones on the streets because the difference is clear. You can eat the Kulikuli alone, that one is bigger in size for the family because you can't finish it at once. You can eat it and just drink water or anything you like on it while working in your office.
"I also have sachets of gaari, Kulikuli or ground nut, with sugar. To the glory of God, there is nowhere I go that people don't buy the product".
Asked how he has been surviving on this business, compared to his former banking job, he said, "If I get another banking job today, I won't do it. I am fulfilled with what I'm doing. Though the profit is not much, sales are very high, so I am surviving with my family. The most important thing is that there is nothing as good as doing your own work, nobody pushes me around anymore. The passion with which I worked for the bank, I'm using it to work for myself and I'm getting result. Today, I feed my family conveniently and perform my obligations as a responsible brother to my younger ones and even my parents.
"With my experience, I will like to challenge our youths never to look job, because there is none anywhere. There is nothing as good as doing your own job. My beginning on this business was rough, but I thank God today that I'm getting over the challenges. Things are much better now".
Lamenting however that expanding the business has been difficult, he said, "The progress is very small but steady because of the limited resources that I have. My desire is to expand the business, getting better accessories and equipment but the funds are not just there. I have tried, but none is coming. I would have loved to have my own permanent staff too, but I couldn't because of this same challenge. I need a loan of between N1million and N2million".