Do you realise that there are few more days to go in Ramadan. How fast the days of the month have gone? They are already counting the last ten nights and very soon Ramadan will be over.
You can actually replace all what you have missed in the month through extra Ibadaah. The night is packed full with blessings. The night that is better than 83 years put together. It is the holiest of all nights.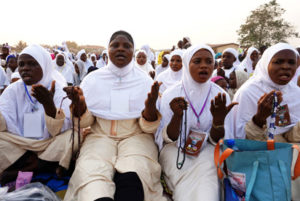 No Muslim can afford to miss this because it is a special favour from Allah bestowing this exponentially blessed night to the ummah. If missed (May Allah forbid), one has vehemently lost blessings greater than 83 years. This is no joke as Allah SWT swears by it. (read Suratul Fajr, Q89: 1-4)
Prophet Muhammad (s.a.w.) would always tighten his belt, a connotation of engaging the last ten nights with all the seriousness he could muster. As a result, he made the most efforts in the last 10 nights like he had never done before.
Brothers in Islam, this is the time you give in your best in worship. Don't be a Muslim who is better in the first ten days of the month and then relaxes in the other; or better in the second 10 and then wears out in the last 10 days.
You've got to be good at the beginning, the middle and in the last. What matters now is he who finishes the race on a very good note.
Again, the Prophet would wake his entire household including children to join him and they will stay in prayer all through the night.
The scholars have explained to us that Allah, in his infinite wisdom had planned the system of the universe in such a way that every person's destiny will be determined on a yearly basis. Allah offered this gesture to mankind as a unique opportunity to influence his own future.
This is done by performing certain supererogatory acts, such as dua, zhikr, recitation of Holy Qu'ran, and nawafil. The important thing at this period is never to miss any of the nights till the end of Ramadan.
Sahur and Iftar Timing
Lagos —Sahur: 4:30- 5:08 Iftar: 7:05
Abuja —Sahur: 4:00- 4:45 Iftar: 7:02
P/Harcourt —Sahur: 4:10- 5:00 Iftar: 6:48
Asaba—Sahur: 4:15- 5:05 Iftar: 6:55
Maiduguri—Sahur: 3:30- 4:18 Iftar: 6:30
Kano—Sahur: 3:40- 4:35 Iftar: 6:50