By Rotimi Ojomoyela
Ado-Ekiti-Following the increasing spate of killings across the Country, Governor of Sokoto state Rt Hon, Aminu Tambuwal has called for immediate removal of the nation's security chiefs and agencies to allow for fresh and innovative ideas on how best effectively police the nation.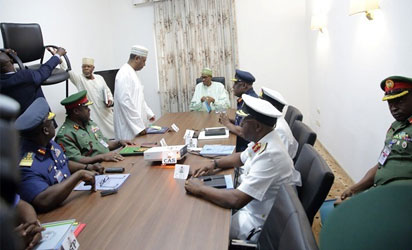 Tambuwal made the statement while declaring open the National Executive Council NEC meeting of Nigeria Union of journalists, NUJ holding in Sokoto.
Alhaji Tambuwal noted that there was no need retaining security heads that could not find solutions to perennial security challenges in the country.
The governor also charged media managers and professionals to rise against increasing rate of disseminating fake news items that had been fueling ethnic and religious violence in the country.
The is just as the National President of the Nigeria Union of Journalists (NUJ) Comrade Abdulwaheed Odusile challenged on the President Buhari's administration to stop giving excuses over unending killings in parts of the country and bring perpetrators to justice in order to protect the nation from disintegration.
According to Comrade Odusile, the primary responsibility of any government was to protect lives and property of the citizenry irrespective of the challenges or cost of providing security.
The NUJ President stressed that media managers must take drastic measures to fight fake news that had been causing security breaches.
Other speakers at the forum urged journalists in the country to adopt responsible journalism that would discourage hate speech and insecurity arising from religious or ethnic conflicts.
According to Gov Tambuwal "What happened in plateau state was unacceptable, President Muhammadu Buhari should think of changing his service chiefs because they failed the country & change security strategies being used to handling killings in the country, bring new people with fresh ideas to tackle the insecurity.
"National interest should take precedent in reporting security matters, journalists could only practice in an atmosphere peace
"There is the need for immediate review of the security architecture of the country for efficiency and effective policing" Tambuwal said.