Sinachi Farms Limited has set an October 2019 deadline for the completion of its $15.6 million plantain and yam flour plant. The plant which would occupy about 2,200 square metres, would be built on a five hectares farm land in Kuje area of Abuja, having over 7,000 plantain plantations.
In this interview with Michael Eboh in Abuja, Chairman of Sinachi Farms Limited and Managing Director/Chief Executive Officer of FootPrint to Africa, Barrister Osita Oparaugo, highlights the driving force behind the project, financiers, partners, challenges and the various opportunities and advantages the project holds for the Nigerian economy.
He also spoke on the activities of Footprint of Africa, and how it has successfully mobilized billions of dollars from across the world to the African continent, especially to the Nigerian economy.
Excerpts:
What is this project about and what is the driving force?
It is a plantain farm and then a plantain and yam plant, where plantain will be processed into plantain flour and yam into yam flour. It's also going to serve as an agro-tourism centre. Within this farm, we have nearly a hundred and twenty economic trees from coconut to mango to oranges, tangerines, lemons and guava among others.
The idea is to have people who come here as a tourist centre, have different understanding about Nigeria, seeing the kind of crops that this land can grow and then of course, witness the processing of plantain into plantain flour. People will get conscious in the next five to ten years about what they eat, how it is processed; so we try to put all of that in one place.
What do you think we are losing out by exporting our raw materials instead of processing it in the country?
The answer to your question is very clear. Africa will never develop if we continue to export raw materials out of this continent. I can tell you for a fact that for instance, Cote d'Ivoire, Nigeria, Ghana, these are the three highest producers of cocoa in the world. Cote d'Ivoire makes $1.6 billion every year exporting cocoa; the United States of America makes $20 to $30 billion a year from chocolate. Europe as the highest market from West Africa put together make nearly $50 billion every year with Germany, Belgium and Switzerland having the chunk of about $15 billion each. Africa — Nigeria, Ghana and Cote d'Ivoire put together, makes less than $5 billion exporting cocoa. For us we want to process our plantain, we want to export plantain flour and not raw plantain. We want to export yam flour and not yam tubers. This is primarily why we set up this place.
The Processing and Packaging section of Bosch, based in South Africa have sent their Nigerian directors here twice and they have looked at the place. This facility, this centre will process one million bags of one kilogramme of plantain flour and 1.5 million bags of two kilogramme yam flour every year for the first three years before we scale up production.
What is the total investment in this project? How much are we looking at?
The total investment in this project is about $15.6 million, and it is privately financed now. We have sourced for funds. And of course, you know when you want to start a business you start with family and friends. I have sourced for funding from family and friends, those of them based majorly in the United States (US) and United Kingdom. We have put in nearly $5 million already into this project.
People say why plantain? We have been on this land for over ten years. We first leased it. We first leased this place, processing different crops. When I looked at the area and saw how development is coming up; housing estates here and there; we looked at the crops that grow in Nigeria which one will be very welcoming; which one will not be a problem for the environment; and we thought of plantain because people plant plantain at their backyard.
Plantain is one of those crops that you can plant even right in the house where you live and then processing it from plantain to plantain flour is also what our mothers, our families do every day. It has no effect on the area or the people so that is our idea why we thought of plantain.
This seems to be one of the largest plantain and yam flower in Nigeria, how does this all come about? What are we looking at as an expansion plan?
We are not keen about the size yet. Some other people have come here and said, "Wow, what is going on here." We are not looking at the size; we are not looking at whether it is the biggest in Nigeria or the biggest in West Africa. We are concentrating on doing what we want to do. We are concentrating on getting this place up and running, October 2019.
We are trying to engage now, 20 farmers from five states. We are looking at  engaging outgrowers from FCT, Nassawara, Niger and Benue for yam, then Delta Edo Cross River and Akwa Ibom, for plantain to support what we have on ground.
It may also interest you to know that we are partnering with a Polish company, that Footprint to Africa, our parent company brought into Nigeria, who have acquired nearly 25 hectares of farm land in Karshi and they are going to plant plantain. We would become their market. Already it is on ground. They have planting; they have planted nearly 15,000 stems of plantain already  and we are giving them every support.
The promoters of this project, maybe you will give us the names and those of your partners.
The company that is promoting this project is Sinachi farms. We will say Bosch is bringing the technical side of partnership for this and we also have some investors who want to remain anonymous for now. It is about the brand, when it comes live then we will be able to mention those who we have partnered with. But for now, It is an investment that is out  carried  by Sinachi Farms Nigeria Limited.
What stage are you right now and when are you looking at commencing operations?
The project is about 50 or 60 per cent complete from record. We have set October 2019 as the opening date or month. I am sure that the way we are going, God willing, in the next four to five months, we should beat that October 2019 deadline.
What happened that we have not gone up to 80 per cent like we projected was because of the herdsmen. If you noticed, t is quite difficult for you to own five hectares of land and now wall it round. The amount of money that we have put in settling the indigenes was huge. We have been on this land for over ten years, we did not have any problem, but as soon as we try to secure the place so that cattle will not come eat up our crop; we will not get to endanger the workers; the indigenes came that the government did not settle them, that they were not compensated. We paid nearly N40 million and we paid it in cash. Thanks to the Commander of the Special Fraud Unit, who gave us men to be able to come here and settle the villagers.  We compensated them before we were able to fence this place out. The money went into that compensation and fencing of this place took us almost a 100 million of available funds that we had.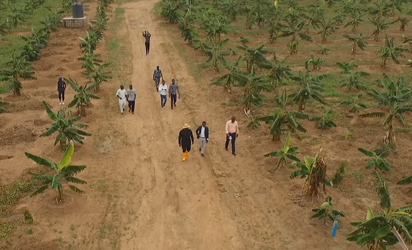 You are known for driving investment into Africa and now we are seeing you inaugurate tourism and planting plantation. How are you doing this?
Yes because, bringing investment into Africa is what our parent company Footprint to Africa does. This is what we are known for. This because we believe in the continent and it would be funny if you go all over the world to tell the world that Africa is ripe for investment and you are not investing in Africa.
That is why we started this project so that by the time it kicks off  we can also bring the world here to say, "Listen we built the first plantain agro tourism center in West Africa because we believe in the continent we believe in the region we believe in the country." Thank God that we have not even gone to 30 per cent completion, I got a Polish company to also invest in plantain in Nigeria and those guys, I am certain, have sunk in over $5 million already into Nigeria.
 Looking at your other ventures, what is the value of investments you have been able to drive into Africa and your challenges in that area?
 We do not know the figures yet for 2018, because the year is still ongoing, but I can tell you that in 2017, Footprint to Africa did bring nearly $5 billion worth of investments here. In Nigeria alone, it was over $2 billion. This year, we have also worked with so many African countries. The challenge in Africa remains the same, namely bureaucratic bottleneck, corruption, lack of infrastructure. Also, in some sectors, unavailability of the right legal framework has hindered investment inflow into the continent.
Nevertheless, investors are willing to come into Africa. God is done with the process of creating land. God is not making land anymore; the business creating land is finished. Africa still holds around 40 to 50 per cent of the world's arable land today. Africa still holds over 70 per cent of the world's diamond, gold, cobalt, iron among others. So you cannot deal without Africa. If only African governments would understand the concept of Public Private Partnership and not an outright contract, so that those big companies, when they come here, would set, partner with the government or the private sector in African to develop Africa.
Africa imports a lot of food despite the fact that it has the available resources to feed itself. Why do you think we are having such challenges in the continent?
That takes us back to my other response, which is lack of infrastructure. If you have adequate infrastructure to support manufacturing, why would the grower of yam export yam tubers. Why would we export tomato fruit and buy tomato puree? Why would we export bitter kola and buy energy drink? The cost of production is so high in Africa, because they are no infrastructure — no roads, no railways, no electricity. These are the things that drive manufacturing. Hence, if those things are not here, Africa would definitely keep on exporting raw materials and importing finished goods.
Back to the plantain flour project, how much do you think this project will save Nigeria in terms of food imports? 
We have not looked at the statistics yet; some organs of Sinachi Farms are working on that. However, I can tell you that this project will support the Nigerian economy in so many ways. The competition alone that this project will bring in the Nigerian market will be amazing and we will like to see that happen; we will like to see people who have access to plantain turn it into plantain flour and turn it into a tourism center, where people can come and see how this process takes place and also have access to some other economic trees to relax.
We want to see that happen. Let us say we target, of course, the plant would have the capacity of an annual turnover of $20 to $25 million. We do not really know how much it will save the country but we do know that it will support the local economy a lot. At least, we are sure it will employ between 1,200 and 1,350 individuals.
When you look at the multiplier effect, maybe from there, we will begin to think of what it will save the country.
What challenges do you envisage in this project and how do you think government can come in to assist?
To be very honest with you, the challenge as at today, will be how to power this place. When I said before that it is a $15.6 million investment, nearly $1.2 to $1.6 million is going into generation of electricity.
We are discussing with an Indian company that is also based in Nigeria to bring one megawatt of solar plants here. Imagine if the electricity is stable; imagine if there is availability of power in this area; that is already $1.6 million dollars that would have been neck. If the government would improve electricity generation, that will save us a lot.
We have been able to source the first phase of funding from overseas and we hope that by the time we get to 70 per cent completion, that we will approach Nigerian government for support. This is because like this is indeed a massive project.
We have seen projects like this. But over time they are squeezed just like so many challenges in the country. How are you sure that yours will not go that way?
I do not think any man will set out to start a project with the hope that it is squeezed. For us, we will continue to do what we are doing and we have absolute believe that by the grace of God we will complete this project. And we are also being very careful with our available resources but this project will go on.