By Gabriel Ewepu
Abuja—The Federal Government had said it would shut down land border between Nigeria and a neighbouring country in a few days to avoid smuggling of foreign rice into the country.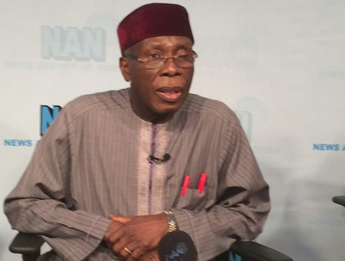 Minister of Agriculture and Rural Development, Chief Audu Ogbeh, disclosed this, yesterday, while speaking with youths in a leadership clinic under the auspices of Guardians of the Nation International, GOTNI.
Ogbeh who did not mention the particular country and border, said shutting the borders had become necessary to encourage local production and sustain the economy of the country.
The minister said a neighbouring country was bent on destroying the economy of the country and discouraging local production of rice, hence the need to shut down the border.
He said: "Our other problem is smuggling. As we speak, a neighbour of ours is importing more rice than China is importing. They do not eat parboiled rice, they eat white rice, they use their ports to try and damage our economy.
"I am telling you now because in a few days, you will hear the border has been shut, we are going to shut it to protect you, us and protect our economy. You will start seeing all sorts of negative things on the internet.
"Let me tell you why we need to shut the border. I grow rice, I was the first Nigerian to mill rice free of stones. If you plant rice in certain parcels of land, some poisonous materials gets into the rice. There are three kinds of water in their natural state; there is fresh water from the river, salt water from the sea, blackish water.
"If you go to the Delta in many countries, in South East Asia where they grow the rice, if you plant rice in the same place like four to six years continuously, the quantum of arsenic begins to increase and arsenic causes cancer and that is what they are dumping for us.
"Some people say they prefer Thai rice because they are very sophisticated, welcome to poison," Ogbeh said.
He said that the Federal Government in two years reduced rice importation by 95 per cent and increased the number of rice farmers from five million to 30 million.
The minister said states like Anambra, Ebonyi, Kebbi, Kano and Jigawa were doing well in rice production.
The President of GOTNI, Dr Linus Okorie, commended the minister for sharing prosperity experiences with the youth.
Okorie noted that the leadership clinic was organised by GOTNI to expose young people to practical leadership principle for life success.
According to him, GOTNI is committed to changing the narratives of poor leadership in Nigeria by consciously developing the capacities of generational leaders.
Reacting to the development, yesterday, rice farmers under the auspices of Rice Farmers Association of Nigeria, RIFAN, hailed Federal Government's move.
National President of RIFAN, Aminu Goronyo, said the move by the government will save the country billions of naira spent on rice importation on daily basis from Thailand and other countries, and increase productivity of his members across the country.
According to Goronyo, Nigerians have been consuming chemical preserved rice from most countries, and have, therefore, become carriers of cancer-related diseases, aside from negatively impacting the economy.
He said: "It is a good move by the government for the entire country because huge amount of money has been spent on rice importation from Thailand."
Subscribe for latest Videos