By Jeremiah Urowayino
The member representing Warri Federal Constituency in the House of Representatives, Mr. Daniel Reyenieju has lambasted the Federal Government for its refusal to set up a team to go into full negotiation with the genuine representatives of the crude oil and gas bearing communities in the Niger Delta region.
The lawmaker, made this known in chat with Vanguard yesterday in Abuja, noting that "it is disheartening and traumatizing that over a year that the Federal Government has raised the hope of oil producing region with the promise of setting  up a negotiating team to comprehensively discuss with the representatives of the oil and gas bearing communities in the area, in its discussions with the Pan-Niger Delta Forum (PANDEF), there is no indication to the effect that the Federal Government is willing to keep to its promise.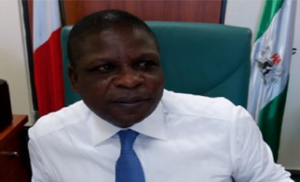 Reyenieju advised the Federal Government not to be carried away by the present peaceful environment, including the improvement in the price of crude oil in the global market to the point of taking  the agitations and demands by the peoples of the region for granted and seeing them as inconsequential and deserved to be treated with levity and  unseriousness. Such situation as evidenced in the present attitude of the Federal Government can only be a recipe for endless agitation and distrust of the Federal Government.
The lawmaker appealed to the Federal Government to immediately set up a negotiating team to enter into dialogue with the representatives of the region which remain the only way of dousing the ceaseless tension in the area arising from the historic lack of trust in the Federal Government
Subscribe for latest Videos