Nigeria vs Argentina – Some football fans on Tuesday in Abuja expressed disappointment with the Super Eagles' World Cup exit following the team's 1-2 loss to Argentina in their final group game at St Petersburg, Russia.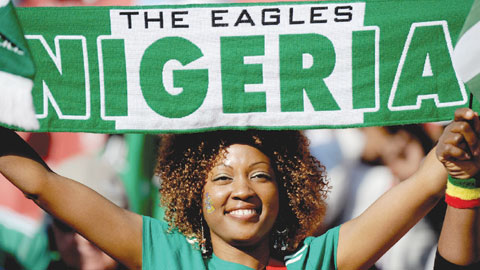 The result of the Nigeria vs Argentina game meant the Eagles  failed to reach the knockout stage of the 2018 FIFA World Cup after finishing third in Group D with three points from three games.
A cross section of football enthusiasts who spoke at the Abuja World Cup Festival, holding at the Druz Resort in Maitama, noted that the Super Eagles were the architects of their misfortune.
Aniekan Udom, a businessman said the Eagles were presented with a rare and great opportunity to beat psychologically demoralised Argentine side but failed to convert their chances at goal.
"This was a rare opportunity for the Eagles to have qualified to the next round but it was quite unfortunate that they blew it.
"They squandered so many goal scoring chances. Even when they drew level, they decided to retreat and defend too early rather than continuing to apply pressure.
"Dropping deep against a very experienced Argentine side was a very costly error and it was only a matter of time for their opponents to get the result they so badly needed," he said.
Lekan Akinola, an Accountant, said that the Eagles showed too much respect for the Argentines, adding that their opponents were there for the taking.
"We could have easily beaten this Argentine side if only we had taken our chances. Our opponents had their backs to the wall and were there.
"They came all out to play and left a lot of spaces at the back during the  Nigeria vs Argentina game that we could have exploited and punished them but our attacking line failed to deliver when it mattered most.
"Kelechi Ihenacho was not in the Nigeria vs Argentina game and even substitute Odion Ighalo and Oghenekaro Etebo were disappointing as they missed a lot of guilt-edge chances," he said.
Tosin Ola, a public servant, on his part said that in spite of the loss, the Eagles gave a good account of themselves, adding that there were a lot of positives the team would be taking from their World Cup experience in Russia.
"In my opinion, I think the Super Eagles campaign at the World Cup was not a bad one.
"The team gave a good account of themselves and performed creditably well against a technically and tactically better opponents in their group.
"They have a young squad and one for the future. If the current crop of young talents are kept together and well-nurtured, including Coach Gernot Rohr and his technical crew, I think they will indeed do well at their next outing.
"It's unfortunate it had to end like this as they were just four minutes away from a place in the round of 16, but paid the price for their lack of experience," he said.
In the same vein, Kefas Ropshik, an automobile entrepreneur corroborated Ola's view, adding that the Russia 2018 World Cup came to early for the young Eagles squad.
"I strongly believe that this young team is one for the future. They will be much more prepared come 2022 in Qatar.
"One could clearly see that there is a lot of talent and energy in the them, but the experience was what was missing. They lost gallantly to a better side.
"Argentina is one of the most successful national football teams in the world, having won two World Cups in 1978 and 1986.
"They boast of world class players such as Sergio Aguero, Angel Di Maria as well as Lionel Messi who decided to turn up today.
"We all knew that a draw would have been a good enough result for the Eagles but some of us predicted 2-1 in favour of the Eagles but unfortunately the scoreline went the other way," he said. (NAN)