By Ayo Onikoyi
Gone are the days, the slim girls had the stage all to themselves at the expense of the plump and big girls. The fat and plump girls who now refer to themselves as plus- size are sharing the stage with the slim ones in the world of modeling. While some are still wallowing in self-pity, living in the shadow, afraid to embrace their body, plus-size model, known as Pelumi Pink, is proud of what Mother Nature has blessed her with.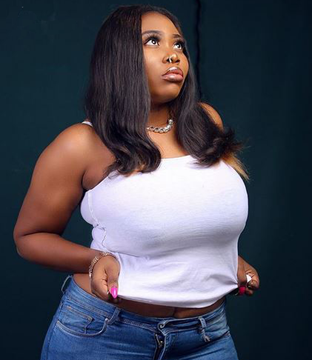 She shares her thoughts on Instagram, reliving the battle of shedding the toga of being fat and embracing the beauty of being curvy
"I came from a family of tall, curvy women. I developed in my body far earlier, so from my young age I have accepted it. I embraced it and saw it as an advantage.  I am done losing weight, I feel great, and I love looking like a woman. I love being curvy, having boobs and hips! I am a curvy girl and that will never change and I am so super proud of myself," she said.
Advising fat women who can't seem to accept that being fat does not mean ugly, she says they have to be bold and go for dresses that will accentuate their curves
"Instead of hiding your body under a dress with absolutely no shape, be daring and choose  outfits with style. When you pick shapeless clothing you're visually adding twenty pounds to your appearance.
Instead, avoid the shapeless pieces and opt for clothing that cinches at the smallest part of your waist (most often right under your bust) and highlights your body's best features," she said.