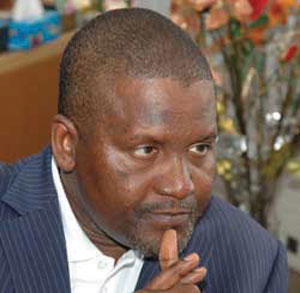 Dangote
By Emmanuel Elebeke
The President of Dangote Group, Dr. Aliko Dangote, says land reform and tourism development are central to economic development in Nigeria.
Dangote stated this at a different fora in Abuja.
Dangote Group is the major sponsor of the ongoing National Stakeholders Dialogue on Land Reform being hosted by the Presidential Technical Committee on Land Reform (PTCLR).
The Group is also the major sponsor of the 61st United Nation World Tourism Organization (UNWTO), Regional Commission for Africa Conference which ends Wednesday June 6.
The UNWTO had on Monday conferred on the President of the Dangote Group Alhaji Aliko Dangote 'Special Award for Responsible Tourism'.
The Dangote Group's Executive Director on Stakeholders Management and Corporate Communication Engr. Ahmed Mansur, who represented Mr. Dangote at the occasion said the award will further spur the conglomerate to support the cause of tourism in Africa.
"As I travelled round the world in pursuit of my business activities, I enjoyed the wonderful sights and sounds that tourism provides.
"I had opportunities to sample all that tourism could provide in the continent. I consider myself not only a committed traveller but a tourist.
"I want to thank the honourable minister of Information and Culture, Alhaji Lai Mohammed and his team and other tourism bodies for the impact and opportunities made available to visit tourist sites," he said.
Meanwhile, at the land reform dialogue, Mr. Dangote said the discussion on land reform in Nigeria was timely, adding that it is central to any meaningful economic development.
Speaking through his representative, Engr. Mansur, he said any initiative that will make transactions in land and transfer of ownership easier and transparent is of great benefit to the Nigerian economy and Dangote Group.
In his address, the Vice-President Prof. Yemi Osinbajo regretted that only 3% of the Nigerian land is surveyed and documented, adding that there was the need to consider a wide range of views in the reform process.
He said the government of Muhammadu Buhari was desirous of enhancing the uses of land through diversification of the economy.
In his welcome address, the chairman of the Presidential Technical Committee on Land Reform (PTCLR) Prof. Peter O. Adeniyi regretted that land administration in Nigeria is largely opaque and centralized.
He said the dialogue was aimed at raising awareness on the benefits of national land reform programme.
In his keynote address Prof. Ezekiel Olukayode Idowu called for the setting up of a National Land Commission funded by all levels of government.