The atmosphere now is all about Lailatul Qadr and how we can all get the best out of the night. How have you spent the last three nights? Has it been fruitful, spiritually exciting and physically rewarding or have you wasted the time unknowingly? How do you intend to spend the next seven nights? Despite planning beforehand, many of us may have got caught up in a normal routine after iftar, and so, we missed the opportunity of spending the night in prayers.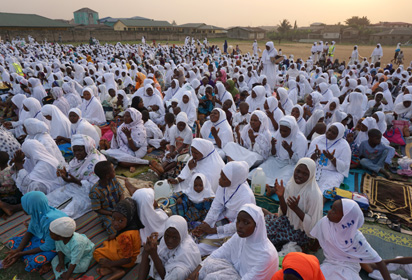 to the change in schedule the blessed month brings. This may have affected our initial plans to increase our worship and to seek Allah's forgiveness and mercy with greater favour.
Have you kept pace with your recitation of Quran, or have fallen behind? Hope you have not missed the Tarawih prayer? If you do, how about your Tahajud? Or did you use weak excuses to get out of it? Did you observe Tahajud or you used the night seeing movies? Did you keep your five daily prayers with utmost consciousness? Did you invite anyone over for Iftar or did you help any needy person, even a beggar, during this period of fasting?
Did you regularly seek Allah's forgiveness and mercy with sincerity and fear? Did you avoid backbiting and slander at home and offices? Did you constantly check your intentions to make sure that your good deeds were for the sake of Allah alone and not to impress others, gain their favour or to show off?
Perhaps, the last few days could also make a difference. Whether you have an impressive record or not, you can still make the most of what is left of Ramadan this year, Insha Allah.
Remember what Allah says on 'one night better than a thousand night.' Remember what Lailatul Qadr stands to offer. Explore the opportunity and increase your Ibadaah and Dua. It is a time when you can get the blessing of a thousand months; it is a time of possibilities. Do Tahajud, and pray in the last few days of the month. Life is about people that take advantage of their opportunities to win the love of Allah. Lailatul Qadr is a huge opportunity.