By BENJAMIN NJOKU, with Agency report
Joe Jackson, patriarch of pop's most famous family indisputably was an 'unseen  hand' behind the successful careers of  music superstars The Jackson 5. But the former manager of the group and father of 11 was widely criticised for being the most 'unbending' strict father, which often left his children struggling to connect with him and led to an estranged relationship with  Michael Jackson  that lasted after the untimely death of  "Man in the Mirror" singer in 2009.
Both Michael and  his sister, Janet have spoken out about their complicated relationship with their father throughout the years. Janet opened up about her experiences with her father in 2011, during an intimate chat with Piers Morgan for his now-canceled CNN talk show.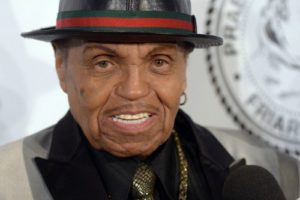 Michael Jackson equally spoke at length about his complicated relationship with his late father.  Before his death in 2009, he recounted how his father had abused him, both verbally and physically when he was growing up.  According to the pop star, his father expected his sons to sing perfectly in the music group that he created, The Jackson 5, no matter how often they rehearsed.  "We'd perform for him and he'd critique us. If you messed up, you got hit, sometimes with a belt, sometimes with a switch. My father was real strict with us – real strict," Michael Jackson wrote in Moonwalk, his 1988  autobiography.
Michael's father consistently denied any abuse for years but later said that he had his children with a strap.  He was said to be given excuses for his behaviour. "I don't regret the beatings,"Joe was quoted as saying in an interview with Oprah Winfrey in 2010. "It kept them out of jail and kept them right."
Though it didn't please Michael Jackson, as he once confessed that as an adult, he was afraid  of his father. "I don't know if I was his golden child or whatever it was, he said, adding "Some may call him a strict disciplinarian or whatever, but he was  very strict. He was very hard. Just a look would scare … but I do forgive him,"  the late pop star said in an interview.
Also, speaking in a 30-hour long conversation with Rabbi Scmuley Boteach, Michael also revealed how his father once threatened to stop loving his children if they stopped singing.
"God bless my father, because he did some wonderful things and he was brilliant. He was a genius, but one day he said If you guys ever stop singing I will drop you like  a hot potato. It hurt me," he said in the 2009 interview.
Elaborating on his relationship with father, in a speech about children and their parents which he delivered  in 2001, Michael said "I have begun to see that even  my father's harshness was a kind of love – an imperfect love, to be sure but love  nonetheless,"he said. "He pushed because  he loved me. Because he wanted no man ever to look down at his offspring. And now with time, rather than bitterness, I feel blessing in the place of anger, I have found absolution. And in the place of revenge, I have found reconciliation. And my initial fury has slowly given way to forgiveness."
However, despite his harsh attitude towards his children, Jackson stood by his son Michael during his molestation trial in 2005, but was criticised after Michael's death for what some people said was an attempt to monetise his memory.
But that didn't stop Michael Jackson from firing  his father as his manager just as he became a worldwide superstar. The documents had been sent to Joe at home while Michael wasn't around. When they finally met to discuss the matter, Michael brought along an adviser so that he wouldn't have to be alone with Joe, according to J. Randy Taraborrelli's 1991 book, Michael Jackson: The Magic, the Madness, the Whole Story.
Michael,however, acknowledged that his father had changed with time. "Time and age has changed him and he sees his grandchildren and he wants to be a better father,"he said.
Continuing, the pop star added " It's almost like the ship has sailed its course, and it's so hard for me to accept this other guy that is not the guy I was raised with. I just wished he had learned that earlier."
After Michael's death in 2009, Joe said that Michael had tried to contact him shortly before he died from a deadly combination of drugs in his system. "The saddest part about the whole thing was Michael tried to reach me," Joe told CNN. "He says, 'Call my father.' This was before he passed. 'He would know how to get me out of this.' But they didn't get in touch with me. They said they couldn't find me, but I was right there."
The Jackson family patriarch had kind things to say about his son in an impromptu news conference hours after Michael died. "He tried his hardest to please everybody," Joe said outside the Jackson estate. "He'd donate so much money to the sick. He helped the blind. He helped everybody that needed help, and he was glad to do it. … I was very proud of my son. The legacy of Michael would  still go on. I promise you that."
Joe, who  died on Wednesday, after battling terminal pancreatic cancer might have been closer to Michael in his later years, but he still wasn't included in the will that the superstar left behind. The realization that he wouldn't benefit from the legacy that he had been so instrumental in building must have been as hurtful and yet as necessary for Michael as the star's professional breakup with him all those years earlier.  Little wonder,  his grandson, Taj Jackson reportedly criticized  the negative comments made  about his grandfather's death, "by those who didn't even know him"adding "Joe was loved by our entire family and our hearts are in pain. Let us grieve without the nastiness." He was separated from his wife, Katherine, whom report said was always at his bedside during his last days on earth.