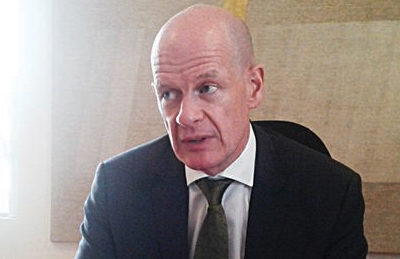 Hoy
Hoy
By Samuel Oyadongha
YENAGOA—THE Ambassador of Ireland, Mr.  Sean Hoy, yesterday, said that the international community, practically the European Union, EU, was concerned about the conduct of the 2019 general election and the rising cases of violence in some parts of Nigeria.
He stated this in Yenagoa during a visit to the Bayelsa State governor, Mr Seriake Dickson, who was represented by his deputy,  Rear Admiral Gboribiogha John-Jonah (retd).
The Irish ambassador said though cases of violence cannot be ruled out in the world, the recent cases of killings and violence in some parts of Nigeria were worrisome.
He  noted that the immediate visit of President Muhammadu Buhari to Plateau State gladdened the hearts of leaders of European Union describing the action as a step in the right direction.
His words: "The international community, particularly the EU, is concerned about the killings in the country and also the President of Nigerian has shown concern. I was pleased that President Buhari visited Plateau State.
"We agreed that there would always be violence in the world, but it is our responsibility, as leaders, to do what we can to reduce it and to look at the causes of violence. Whether  it is poverty or insecurity, we need to find ways to resolve it.
"I think most Nigerians live peacefully and when such peace is threatened, it is very bad. Now we are seeing insecurity and other conflicts and we think they are caused by bandits.
"I don't believe that the peace loving people of Nigeria are involved in the violence along ethnic and religious grounds. And it is very important that leaders preach peace because Nigerians are peaceful people and have lived together for a long time.
"Now that Nigerians are being threatened by negative forces, that is where all of us including world leaders, the Nigerian people and community leaders  have to come together and preach peace.
"If people resist violence, it will not succeed, no matter who forced it. On the issue of politicians' involvement in killings and violence, we don't have evidence but also we are members of the international community and cannot comment," he said.
On the 2019 general election,  the Irish envoy noted that the foreign countries were concerned over the threat to peace ahead of the conduct of the general election in the country.