Toni Kroos and Mats Hummels criticised Germany's failings after the holders slipped to a shock 1-0 defeat against Mexico in their opening World Cup match on Sunday.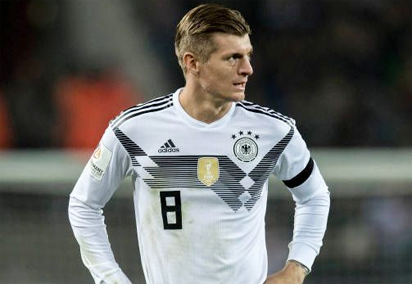 Germany lost their first match at a World Cup finals for the first time since 1982 after Hirving Lozano scored the winning goal in Moscow.
The Germans were caught napping in the first half at the Luzhniki Stadium and went behind in the 35th minute as Mexico found acres of space to counter attack through the midfield.
Centre-back Hummels, who was out of position for the goal, said Germany had ignored the warnings from their shaky 2-1 win over Saudi Arabia in their final warm-up game.
"It's pretty simple: we played like we did against Saudi Arabia, but this time it was against a better opponent," fumed the Bayern Munich player, who was booked for a foul in the dying stages.
"We had already talked about things like giving the ball away and lack of cover. Unfortunately, we did not follow that through. That's why the first half looked the way it did.
"Mexico deserved to win and we made it too easy for them, even though we knew exactly how not to play against them."
Kroos, who like Hummels was part of the team that won the 2014 World Cup, said Germany paid the price for failing to stem the waves of Mexican first-half attacks.
"We did not find any solutions to their game in the first half," the Real Madrid player told German broadcaster ZDF.
"They were clever and left room where they could afford to. In the second half we were better, Mexico got tired, but we did not score, although there were enough chances for at least one."
Kroos said Germany now must win their remaining Group F games against Sweden in Sochi next Saturday and against South Korea in Kazan on June 27 to be sure of progressing.
"We're under pressure now, no question, we have to get six points," he said.