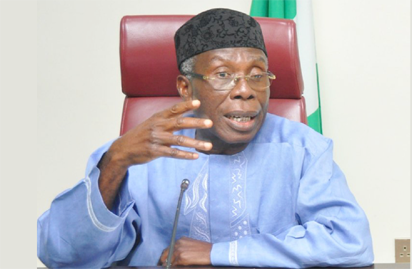 Chief Audu Ogbeh, Minister of Agriculture and Rural Development
…as 2-day SeedConnect Conference Africa 2018 kicks off
By Gabriel Ewepu
ABUJA- THE Federal Government, Tuesday, disclosed that the Jonathan-led administration initiated agricultural programme, Growth Enhancement Scheme, GES, will soon be replaced with Agricultural Inputs and Mechanisation Services, AIMS, for effective service delivery of farm inputs to farmers across the country.
This was made known by the Minister of Agriculture and Rural Development, Chief Audu Ogbeh, in his speech at the opening ceremony of a 2-day SeedConnect Conference Africa 2018 in Abuja.
The conference with theme, 'The Nigerian Seed Industry: Evaluating the Seed Sector and Developing a Sustainable Framework to Bolster the Growth of the Seed Industry' has over 300 participants from Ghana, Niger Republic, Cote D'Ivoire, Switzerland, and others, with over 26 companies showcasing their seeds.
Ogbeh said the essence of AIMS was to cut huge cost involved in GES, which the Jonathan administration left a debt of N67 billion owed agro-dealers, and it has been a huge burden on the shoulders of the present government, although agro-dealers under GES are being paid their money.
According to him while explaining about AIMS, said will at the beginning have three trained distributors of farm inputs in each of the 774 local government areas, where farmers would access farm inputs including fertilizers, hybrid seeds and mechanization service.
He added that with AIMS fake seeds dealers could be traced and dealt with according to law. However, he acknowledged that the negative effects of fake seeds have frustrated many investors in the sector.
He said: "We are going to create a programme called Agricultural Inputs and Mechanisation Services, AIMS, we will name distributors in the local government areas.
"The good seed companies we know will use those distributors to sell those seeds to farmers depending on the crops they are growing, if it is rice, maize, sorghum or millet including soya beans or beans.
"If the seeds fail on the farm the farmer will come back to the distributor and also complain to us then the Ministry will take the distributor up on the matter. By that way we will know who is what and who is doing what. The farmer does not lose money.
"Lots of young people women, professionals are going into agric and we don't want people to go spend and lose their money and go away regretting, and that is the problem we have with agric now, and I have had that bitter experience after planting seed nothing grows. We hope that Nigerians will cooperate.
"The distributors will be trained, they will have the phone numbers of those producing the seeds, addresses, and we too will know who they are and what they are distributing and where so that and there will be no question of buying stuff and running away."
According to the Minister adverts will be placed on newspapers and people will apply as distributors, and directors of agriculture at the states, even local government chairmen will know who is where, and there will be no question of running away. He said they will be supported by the Bank of Agriculture to enable them lend, hire machines out, give seeds and give general support, then government will train extension workers to teach farmers on how to plant their seeds.
In his remarks the Governor of Kebbi State, Abubakar Bagudu, said the government should do more to protect local seed companies with favourable trade policies, and also task local seed companies to partner with bigger and foreign seed companies for a win-win situation.
"Seed companies should partner with bigger and foreign seed companies for a win-win situation", Bagudu stated.
While speaking on the essence of the conference the Director General, National Agricultural Seed Council, NASC, Dr Philip Ojo, said the council has done well and has been the leader in Africa and pointed out that with Nigeria supplying 70 per cent of hybrid seeds in Africa, a lot needs to be done to boost it up.
Ojo said the seed industry in Nigeria has a lot of challenges, therefore needs more attention which include combating fake seed dealers, fund constraints, capacity building, improved infrastructure, quality control, inadequate logistics, low quality seeds from some research institutes, poor handling of breeder seeds, inadequate personnel, inadequate seed testing facilities, poor feedback from stakeholders, inadequate training of seed producers, and others.