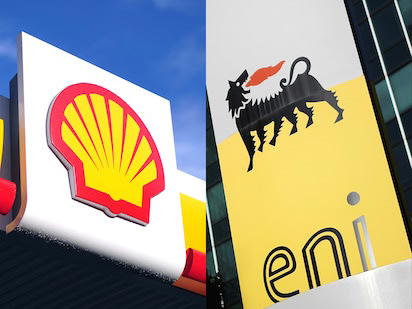 (COMBO) This combination of pictures created on December 20, 2017 shows the logo of a Shell petrol station in central London on January 17, 2014 and the logo of the Italian oil and gas company Eni in San Donato Milanese, near Milan on October 27, 2017. Italian giant Eni and fellow petroleum company Shell will stand trial in Italy over allegations of bribery and corruption in the 2011 purchase of an offshore oil block in Nigeria according to Italian media reports on December 20, 2017. A judge in Milan ordered Eni, Shell and key figures such as Eni chief Claudio Descalzi and his predecessor Paolo Scaroni to stand trial in proceedings to begin March 5. / AFP PHOTO /
Oil giants Eni and Shell went on trial in Milan Wednesday on charges of corruption in Nigeria, with judges accepting to consider a request by Lagos for them to face civil liability charges.

A ruling in favour of Nigeria, the plaintiff, would be an important development in the trial — which has been delayed twice — as it would make Shell and Eni liable to pay damages to Nigeria if they are convicted.
Shell and Eni can still ask the court to reject the request. If it does, only the individuals on trial would be liable to pay damages in the event of conviction.
"Nigeria demanded accountability for Eni and Shell. There are billions of dollars at stake in this case. The companies and the wider industry should realise that there are huge consequences for dodgy deals," Barnaby Pace of Global Witness told AFP.
Eni and Shell are accused of handing out bribes during the 2011 purchase of OPL245, an offshore oil block estimated to hold nine billion barrels of crude, for $1.3 billion.
Eni chief executive Claudio Descalzi, his predecessor Paolo Scaroni and several managers from Eni and Shell are among those to go on trial, as is Nigeria's former oil minister Dan Etete.
The agreement allegedly saw Nigeria's former president Goodluck Jonathan and his oil minister Etete pocket bribes, according to corruption watchdog Global Witness.
Global Witness said the deal resulted in $1.1 billion being paid into an account in London opened by Nigerian government officials that went directly to Etete. The Nigerian government received only $210 million.
Both companies deny paying bribes.
As well as the Nigerian government and Global Witness, several other associations, such as the Nigerian group HEDA, have also requested to be recognised as plaintiffs in the trial, a request opposed by Shell and Eni's lawyers.
The court will rule at the next hearing, on July 20, on the constitution of civil parties.