BY SIMON EBEGBULEM, BENIN-CITY
Dr Cairo Ojougboh is a governorship aspirant of the All Progressives Congress (APC) in Delta State. In this interview, the former House of Representatives member reviews the crisis rocking the APC in some states following the congresses, saying the problem will be resolved before the June 23 National Convention of the party. He believes President Muhammadu Buhari has done well in three years and optimistic that the emergence of the immediate past governor of Edo State, Comrade Adams Oshiomhole, as the next National Chairman of the APC will guarantee victory for the party in the 2019 presidential election.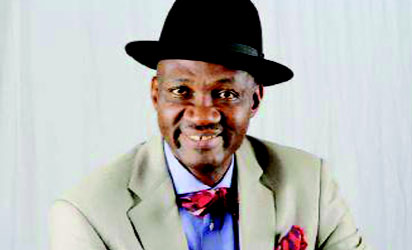 President Muhammadu Buhari and the APC federal administration just celebrated three years in office but some Nigerians feel the government has underperformed. What is your take?
I am very happy with the performance of the President. And I have always said that if corruption is not checked in Nigeria, there can be no development. Today people are being charged to court for sharing stolen money for election. I told somebody that I was Vice National Chairman of the PDP then and I never knew they were sharing money. And it was because my position was very clear, one man one vote. And that is why even as a member of PDP then, I never criticized Buhari because I know for this man not to have a foreign account, not to have a house overseas, he must be honest. People can criticize this administration's war against corruption but what you should know is that winners don't protest, it is the losers, the people they have asked to return money, that are involved in all the propaganda around the world, saying the fight is one-sided. Tell me who has been arrested that has not stolen money? And when the President also leaves office, the opportunity will come for his administration to be reviewed.
In the area of the economy, he has performed more than people expected. Today our foreign reserve is above N40billion. For the first time in the history of this country, we are producing above 7,000 megawatts of electricity. The ambitious plan for railways that is being implemented is laudable. The infrastructural development that this government has achieved has not been made in the last 20 years. Go to the East-West Road, Aba-Port Harcourt highway, the Second Niger Bridge that the PDP used to deceive the Igbo, it is 60 per cent completed today.
Look at the Lagos-Ibadan Road and railway. If Buhari has another four years in government, the foundation he would have laid will be built on very easily by his successor. And I encourage Nigerians to support him and vote for him. As a matter of fact, the area of security, he did not create it, he inherited herdsmen problem. And the government is doing all it can to solve the problem. If the PDP government has addressed some of these things, Buhari will not be dissipating so much energy today fighting insecurity. Every Nigerian agrees that Buhari is not stealing money, that is number one, and if anybody working under Buhari is stealing money, that person is on his own. And I can assure you that if Buhari catches that person, he is finished. Do you know that, for the first time in the history of this country, civil servants are afraid of stealing? Things have changed positively.
You expressed so much optimism about your party being re-elected in 2019 but there is so much crisis in the APC ahead of the 23 June National Convention even in your state, Delta.
Let me say this, four or five years ago when the APC had their convention, people hardly heard about what was happening in the party. But, today, you can see that APC is the party to behold. You can see there is battle to pick the tickets of the APC at various levels for election. The size of the party has increased. So something that has happened that is good is that this fight and contestation is there, however the party is big enough to resolve it and the party is moving in that direction. It is a fight among brothers, it is a fight among friends and, as far as I am concerned, there is no victor and no vanquished.
Talking about the National Convention, the problems that arose during the congresses will be resolved. Like I said in the case of Delta State, if they were not there in APC, then there would not have been hope. There is strength in diversity and crisis is rearing its head because of the rule of law in APC. The current National Chairman, Chief Odigie-Oyegun, is doing his best and when Comrade Adams Oshiomhole comes in, he will do a fantastic job. Oshiomhole will be able to sit down and look at the entire situation and resolve the problems. In fact, before the National Convention on June 23, a lot of the crisis will be resolved and the party is working hard to do that. I am impressed with the level of followership across the country and it shows the party is doing very well. If the party is not doing well, we will not be fighting. So the APC is growing well and it is good for us. Let me also tell you that Oshiomhole's coming, by the grace of God, will bring fairness, justice, fire brand, because one, politics is like fire, Oshiomhole has fire in him and it will ignite the system. And he also has the ability to move, the natural gift of building consensus and his presence will ensure that APC wins the 2019 election.
Can we know why you want to be governor of Delta and your problem with the incumbent who is from the same senatorial district with you?
On the 29th of May, his government did a full page advert in Vanguard Newspaper to reply to a press conference we did on the 17th of April. On the day that press conference was held, he made effort to ensure that our statement was not aired or used. We were surprised that he decided to reply to claims he didn't want published. We said that he awarded a contract for the construction of the secretariat and that he has a counterpart fund for it to the sum of 13 million dollars. And that the company, North China Construction, has nothing to do with the government of China, it is a private company. In his right of reply, he agreed that the government of China has nothing to do with it. His argument is that the company is known to the government of China. Okowa has borrowed more money than any government in the history of Delta. Since he resumed office, he has received over N500billion in loans, grants and, if you include the Paris Club refund, it exceeds that amount. And what we are saying is that there is no visible project we can see in the state. He will tell you he has constructed 500 roads, where are the roads? Twice rains have fallen in Delta this year and all the roads are impassable.
He has been taking unauthorized loans. For two years we made it very clear that he has no budget and he has no budget. If you go to DESOPADEC today, for three years there is no budget in DESOPADEC. So we have asked the oil producing communities to ask for their money. Now they are plotting mayhem ahead of the elections in the state by buying guns and speed boats to be used in the riverine areas.
APC agenda
Our joy is that the APC has a ten-point agenda and that is what Deltans have been yearning for. Second is job creation. We have sat down to study the situation and we shall create at least 300,000 jobs every year and in four years we will create 1.2million jobs. We will also take education. We are going to re-design our educational system in a such a way that we will make provision for technical education so that even at the point where you have your primary leaving certificate you would have gotten a job, so that when you get to the junior secondary you are employable either as a draftsman or a technician. We will now establish industrial parks all over the state where we can absorb these people that have been trained. We will redesign our schools to take care of doctors, lawyers and engineers so that when they leave school there will be jobs waiting for them. We will put metros in the cities and use our waters to produce power.
My slogan is to do only one term and by that one term I will complete the turn of Delta North. I am going to abide by the rule of law, one man one vote, and I am very happy with the way Deltans have received me.