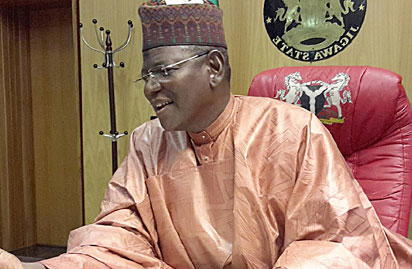 Sule Lamido
By Aliyu Dangida
DUTSE – High Court sitting in Dutse, Jigawa State, yesterday, discharged and acquitted the former governor of the state, Sule Lamido, who was standing trial since 2017, following a suite instituted against him by Jigawa state government.
The Jigawa state government dragged, former governor Sule Lamido, before Magistrate Court II in Dutse, on charges of inciting disturbances, disturbance of Public Peace, criminal Intimidation and defamation of character.
The Defence Counsel, Barrister Yakubu Ruba, challenged the Magistrate court on its jurisdiction to hear and determined the changes prepared against his client, on the ground that the action was not initiated in accordance to the provision of section 141 of the CPC Law of Jigawa State.
The Magistrate, presiding over the case, Usman Mohammed Lamin, overruled the submission of the Defence Counsel, insisting that there was no violation of laid down procedure hence, the trial continues.
In the course of the trial, the Defence Counsel, filed an appeal before the state High Court based on his earlier submission and asked the Magistrate court to adjourned the case sine dine.
In their Judgement, the Justices of the State High Court, Justices Ahmed Musa Gumel, Umar Sadiq and Abdulhadi Suleman, discharged and acquitted the former governor setting aside all charges initiated against him as earlier prayed in his counsel's submissions.